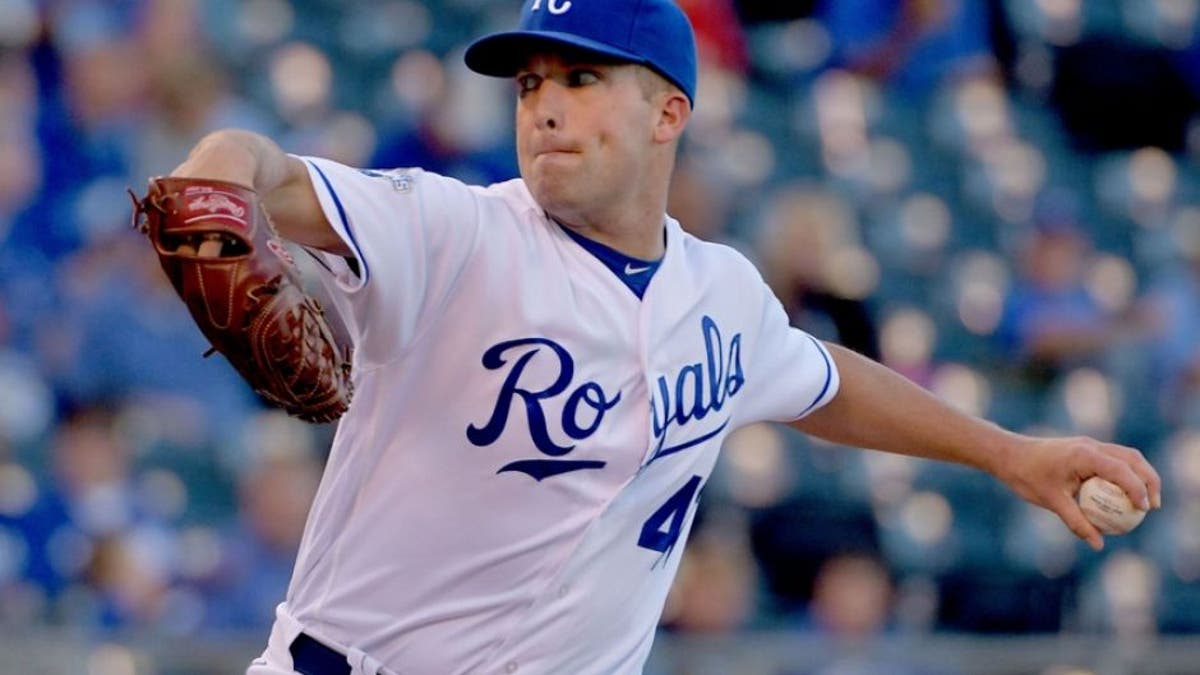 KANSAS CITY, Mo. - Dayton Moore was almost finished assembling a team he thought was capable of getting back to the playoffs, one that addressed many of the holes that plagued them a year ago.
Then, he received a phone call on the way to the airport.
At first he thought it was a mistake, the news that young Kansas City pitcher Yordano Ventura had been killed in a car crash in the Dominican Republic. Then he realized it was true. And with spring training in Arizona just a few weeks away, Moore was left not only with the need to grieve over a life lost far too young, but a sizable hole in his starting rotation.
The grieving he approached this way: "My faith is important," the general manager said. "I had deep conversations with Yordano in the past about faith, but that's how I personally deal with this."
The hole in the rotation he dealt with this way: Moore signed veteran Jason Hammel to a two-year, $16 million contract a week before Royals pitchers and catchers were expected in suburban Phoenix.
While it's hard to expect Hammel to replace Ventura, a 25-year-old flamethrower just hitting his prime, he at least fortifies the pitching staff. And with Danny Duffy, Ian Kennedy and Jason Vargas holding down three other jobs, it leaves just one spot open to competition this spring.
"The beautiful thing about spring training every year is there's always a big surprise," Royals manager Ned Yost said, "and sometimes there's two. We'll replace (Yordano) on the field. It's just that we'll never be able to replace that smile and personality. That's what hurts the most."
But baseball moves on, Yost said, just like life. So as the Royals get to work trying to improve on their 81-81 record of a year ago, here are some things to know:
NEW LOOK: The Royals traded All-Star closer Wade Davis to the Chicago Cubs for outfielder Jorge Soler, their biggest move of the offseason. It not only solidifies right field with a young power hitter who has considerable upside, but also makes the team younger. It also means hard-throwing reliever Kelvin Herrera, who closed games while Davis was dealing with injuries last season, will assume the job on a full-time basis this season.
ROOKIES TO WATCH: Keep an eye on the young pitchers in camp, many of whom will be competing for the final spot in the starting rotation. Matt Strahm may have the inside track after he was electric out of the bullpen last season, but Alec Mills, Miguel Almonte, Kyle Zimmer and Josh Staumont also have enough ability to land the job. The question is, do they have enough seasoning?
THEY'RE SET: The everyday lineup is essentially set after the Royals signed Brandon Moss to a two-year, $12 million deal to replace Kendrys Morales as the designated hitter. Moss brings power to the lineup, but he also struggled mightily late last season with St. Louis.
THEY'RE NOT: Along with the last rotation spot, there are jobs to be had in the bullpen, which was the biggest strength of the Royals during their back-to-back World Series runs. Nathan Karns may land one if he doesn't end up in the rotation, but look for veterans such as Al Alburquerque and Brandon League -- both invites to major league spring training -- to compete for late-inning roles.
ON DECK: The Royals signed left-hander Danny Duffy to a long-term deal in the offseason, and he's in line to start on opening day. But with several other cornerstones due to hit free agency after the season, including first baseman Eric Hosmer and third baseman Mike Moustakas, many are viewing this as the Royals' last best chance to make another World Series run for a while.
"Last year, I wouldn't say we were a tired group, but emotionally drained would probably be a good description," Duffy said. "We are hungry after watching other teams excel in the playoffs. It made me mad. I was upset that I wasn't there. I know I can speak for everybody in that room to say it sucks not being able to play postseason ball after you get a taste of it."