Royals' Mondesi could be first MLBer to debut in World Series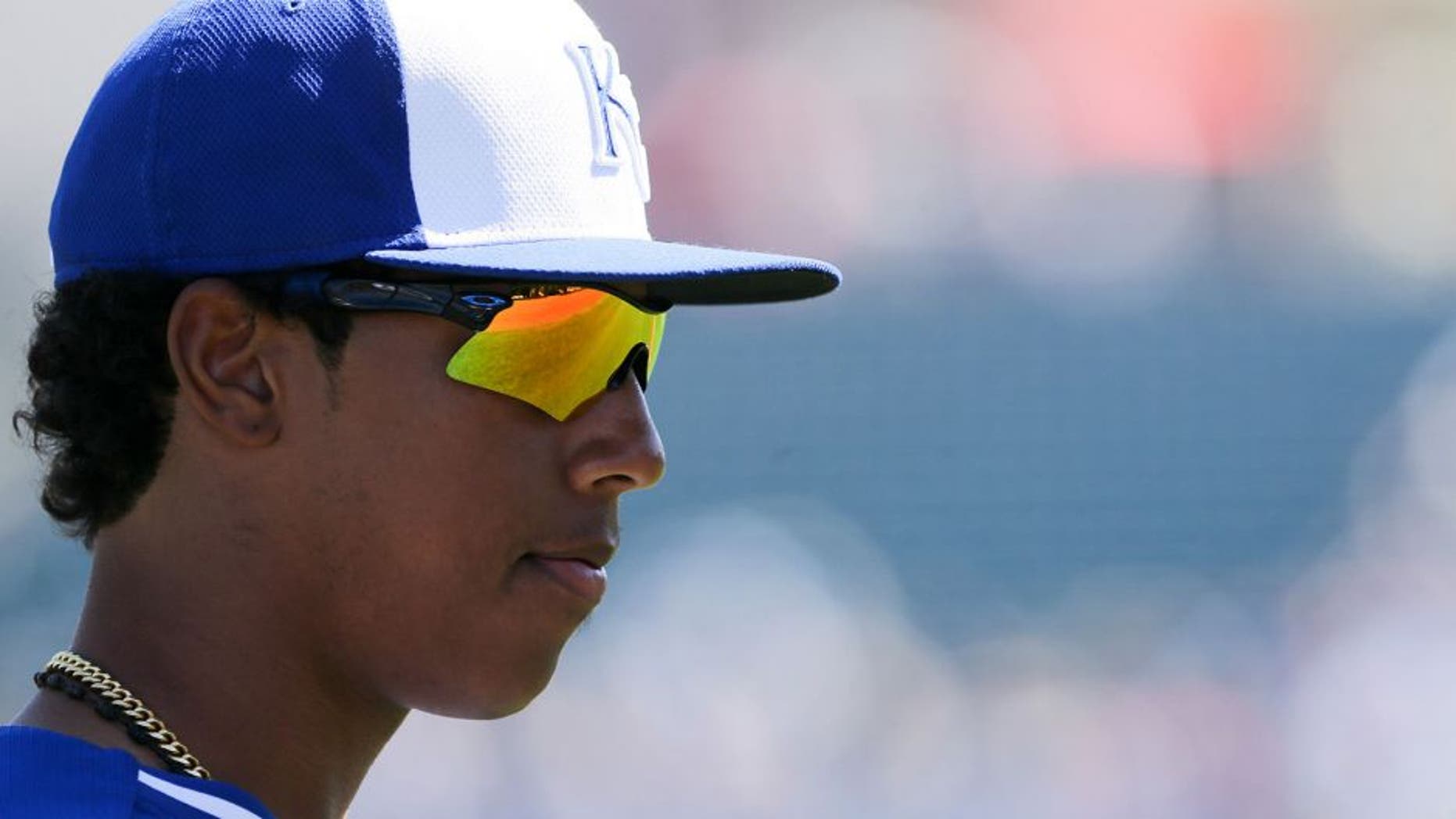 Raul Mondesi Jr. has never appeared in a major-league game. In fact, he has not yet played above Double-A. But the Royals are strongly considering adding him to their World Series roster, major-league sources say.
Mondesi, a switch-hitting middle infielder who turned 20 on July 27, presumably would replace outfielder Terrance Gore, who did not bat in either of the first two rounds and has only three at-bats since rejoining the Royals on Sept. 1.
The rules allow the Royals to add Mondesi because he was in their organization on Aug. 31. He could replace an injured player, likely reliever Greg Holland (only in the middle of a series do the rules require a position player to replace a position player and a pitcher to replace a pitcher).
The Royals, though, would need to clear a spot on their 40-man roster for Mondesi; they could do that by designating for assignment or releasing another player, perhaps inactive reliever Joba Chamberlain.
The unexpected addition of Mondesi would be fascinating on any number of levels, starting with the fact that no player has made his major-league debut in the World Series, according to STATS LLC.
Mets infielder Matt Reynolds, an injury replacement for Ruben Tejada in the Division Series, could beat Mondesi to that distinction, assuming the Mets include him on their WS roster; Reynolds, 24, did not appear in either the DS or NLCS.
The Mets, though, would prefer to keep Juan Uribe over Reynolds, assuming that Uribe is sufficiently recovered from a chest contusion that has sidelined him since late September. Manager Terry Collins planned to meet with Uribe after Monday's workout and ask the player for an honest assessment of his condition.
Uribe would give the Mets a late-inning threat off the bench, one who could prove especially valuable once the Series moves to New York's Citi Field and is played under NL. Though Uribe is 36, he hit 14 home runs in 360 at-bats this season. Mets officials believe he can handle velocity, even in right-on-right matchups against the Royals' powerhouse bullpen.
The Royals seemingly have a similar player for such a role -- outfielder Jonny Gomes. But if they go with Mondesi -- or Cheslor Cuthbert, another infield prospect who also began working out with the club on Sunday -- they likely would not carry Gomes on their roster.
Gomes, who turns 35 on Nov. 22, joined the Royals in an Aug. 31 trade, but batted only .167 with a .469 OPS in 34 plate appearances in September and was not on the team's roster for either of its first two postseason series. Still, Gomes would give the Royals a right-handed power threat off the bench in New York (Kendrys Morales, the team's DH, also will be on the bench while the series is played under NL rules.)
The argument for Gomes over Mondesi (or Gore) is fairly obvious -- Gomes leads the majors with seven pinch-hit home runs the past three seasons. The Red Sox went 10-1 with him in their starting lineup during the 2013 playoffs. Gomes batted only .167 with a .557 OPS in 48 plate appearances, but one of his hits was a decisive three-run homer off a right-hander, Seth Maness, in Game 4 of the World Series.
Without Gomes, the Royals' bench in New York likely would consist of Morales, Mondesi, outfielders Paulo Orlando and Jarrod Dyson, infielder Christian Colon and catcher Drew Butera.
Mondesi, however, would give the Royals more flexibility than Gore or Gomes. As a second infielder, he could prove valuable if manager Ned Yost makes multiple double switches. Though Mondesi is not as fast as Gore, he also could be a base-stealing threat -- he was successful in 19 of 25 attempts at Double-A during the regular season. Stolen bases could be valuable if, as expected, the Series features a number of close games.
Gomes, if added to the roster, could start against Mets left-hander Steven Matz in Game 4, but likely would be removed for a defensive replacement after two or three at-bats if the Royals took the lead. He could get pinch-hit opportunities in the other games in New York, but the Royals might prefer the additional options and balance that Mondesi would provide.
The World Series rosters will be announced Tuesday afternoon.