Royals have opportunity to end rough homestand on positive note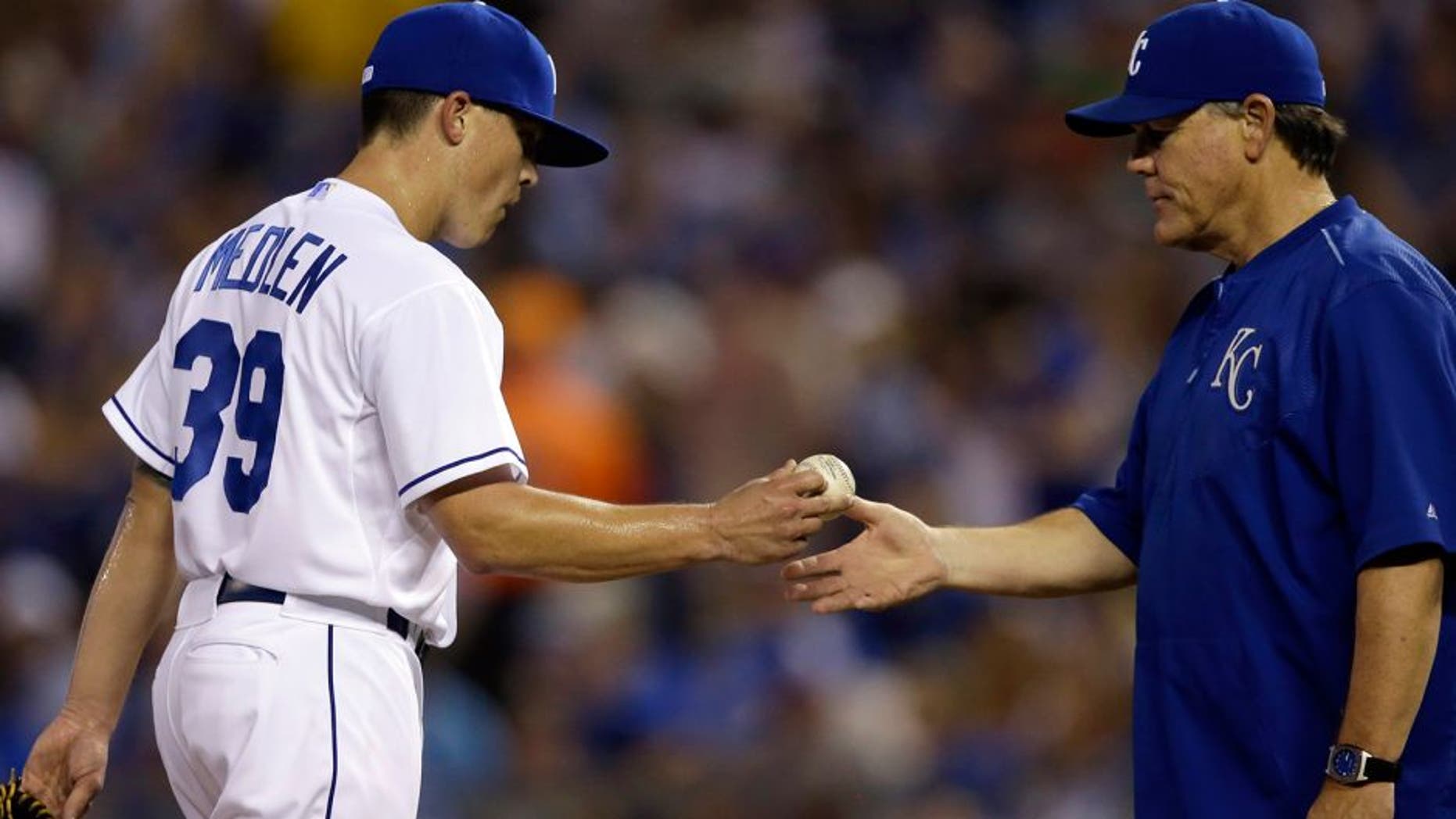 The Kansas City Royals never seemed too concerned during a rare losing stretch.
With that in the past, they can focus on finishing their second losing homestand on a positive note Wednesday night against the Minnesota Twins.
Kansas City (83-55) was outscored 31-9 while dropping four in a row for the third time this season. Though the Royals didn't completely break out, they scored all their runs in the first and got seven strong innings from Edinson Volquez in Tuesday's 4-2 victory.
Alex Gordon had three hits and Eric Hosmer delivered a three-run double to help the AL leaders improve to 3-5 on their nine-game stay.
"It's big, especially the way the last four games have gone," said Hosmer, who is batting .343 in his last 10 contests.
Though the Royals would like to produce better at the plate in these final few weeks before the postseason, Volquez's performance could provide a needed boost for a rotation that had an 8.57 ERA over the previous four games.
Those problems began Friday when Kris Medlen (3-1, 4.88 ERA) yielded seven runs and 11 hits in 5 2/3 innings of a 12-1 loss to the Chicago White Sox.
"I had a big issue with my curveball, getting that down," the right-hander said. "Just a frustrating day overall."
In the mix with Danny Duffy for the No. 4 spot in Kansas City's postseason rotation, Medlen isn't too discouraged despite falling to 2-1 and having his ERA rise to 6.88 as a starter.
"I think you take every start with negatives and positives," Medlen told MLB's official website. "It's baseball. It's a frustrating game, but you can't get down."
Medlin's only other appearance against the Twins (71-67) came in 2010.
In pursuit of the AL's second wild card, Minnesota has dropped four of six after winning 10 of 12. Joe Mauer had two hits with an RBI as the Twins fell to 2-3 on a nine-game trip.
Aaron Hicks also had two hits and has hit safely in all five games since coming off the disabled list with a hamstring issue.
Mike Pelfrey is 1-0 with a 2.45 ERA in two starts at Kansas City this season, but 0-2 with a 10.22 ERA in his last three overall. The right-hander gave up seven runs and eight hits in four innings of Friday's 8-0 loss at Houston.
"I feel good," Pelfrey said. "I'm healthy. The results just haven't been there. I'm going to keep plugging away and keep going and hopefully, it will turn around soon."
Manager Paul Molitor had some advice for Pelfrey (6-9, 4.17).
"I think he has to be more effective with the fastball in terms of where he's putting it, backing them off here and there, whatever he needs to do," Molitor said. "But, there are just a lot of aggressive swings against the fastball."
Lorenzo Cain is 6 for 12 with two doubles against Pelfrey while Hosmer is 4 for 9.
It's uncertain if Minnesota rookie slugger Miguel Sano will miss a second straight game with a nagging hamstring injury. He has one hit, walked twice and struck out 11 times in his last 17 plate appearances.