Royals flip the calendar looking to end skid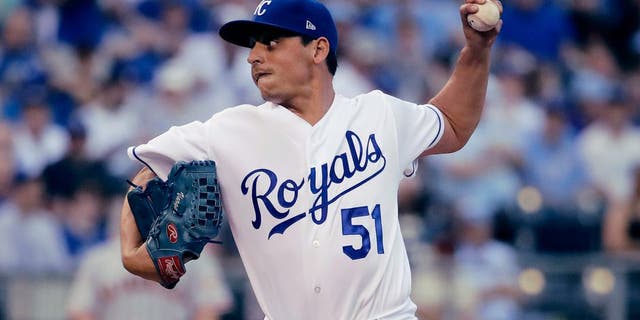 The Royals are looking forward to flipping the calendar to May.
Kansas City begins the new month Monday with the opener of a four-game series against the Chicago White Sox.
April was a horrific month for the Royals, who went a major league-worst 7-16.
The White Sox, meanwhile, went 13-10 in April, though their six-game winning streak ended Sunday with a 7-3 loss to the Detroit Tigers.
The Royals are last in the majors in batting average (.210), on-base percentage (.270) and slugging percentage (.336). They have scored three or more runs in an inning only three times all season.
The once-shutdown bullpen went 2-7 with three saves and four blown saves in April.
"We've definitely got to get going," said Royals center fielder Lorenzo Cain, who on Sunday hit his first home run since Aug. 26. "As a group, we've definitely been struggling. It's just been tough. It's been a tough month, I guess, and we're going to turn the calendar here and go into May and, hopefully, we can get things going."
The Royals will try to end a nine-game losing streak against the White Sox, who swept them in a three-game set last week in Chicago.
"You don't anticipate getting off to this kind of start, especially, you know, coming out of spring training I felt like we were in good shape to get off to a good start," Royals manager Ned Yost said. "So, yeah, this is surprising."
Chicago'sconcern entering Monday surrounds Avisail Garcia. The right fielder, who is batting .368, was pulled in the fifth inning Sunday due to left groin tightness.
"Avi's OK," White Sox manager Rick Renteria said. "He had a tight quad/groin. Didn't pull it or anything, he just had a tough time loosening it up. When we got into the fifth or sixth inning, it was just wise. It was still wet out there. We just wanted to make sure we got him in and got it taken care of.
"We're not too concerned about it. … I still have to check, but I don't expect that he won't be (back in the lineup Monday)."
Rookie Jacob May replaced Garcia and struck out in his two at-bats. He is 1-for-32, a .031 batting average.
"I know he hasn't (played much lately)," Renteria said. "I think it's been five days or so, I'm very conscious of that, for sure. You'll see him in KC. The one thing about it, he's been doing all the work with the guys, but I still have to get him in a game. We've been trying to work on his right-handed swing a little more. You'll see him in the next couple days, I'm sure."
Renteria was pleased with the club's first month.
"They've battled," he said. "They've played the game. We've got some -- all the cliches -- some timely hitting, some nice relief."
Chicago's starter for the Monday series opener will be rookie right-hander Dylan Covey (0-1, 6.91 ERA). He was removed after 86 pitches and four innings in his start Tuesday against the Royals. He allowed two runs on three hits, three walks and a hit batter.
Covey has walked eight and struck out six in 14 1/3 innings in his first three major league starts.
Left-hander Jason Vargas, who lost to the White Sox on April 24, will draw the starting assignment for the Royals. Vargas (3-1, 1.40) was charged with four runs (three earned) on seven hits with five strikeouts and no walks over five innings in the 12-1 defeat.
Vargas is 1-3 with a 6.70 ERA in nine career starts against Chicago. He is 2-0 with 14 2/3 scoreless innings at home this season.