Royals face Giants for first time since 2014 World Series Game 7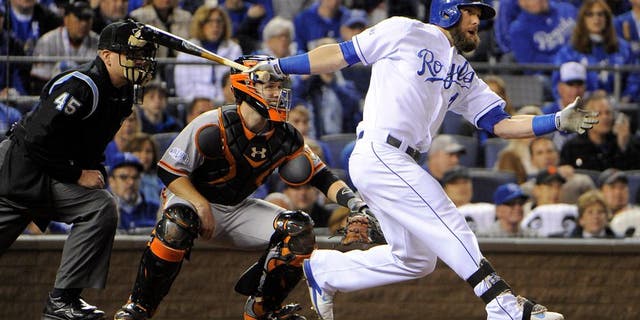 NEWYou can now listen to Fox News articles!
KANSAS CITY, Mo. -- The San Francisco Giants and the Kansas City Royals meet Tuesday for the first time since their epic 2014 World Series.
The Giants open a two-game interleague series at Kauffman Stadium. Giants right-hander Matt Cain and Royals right-hander Jason Hammel are the pitching probables for the first game.
The Giants won the 2014 World Series in seven games. The series ended with the Royals stranding Alex Gordon at third base when Salvador Perez popped up foul to Pablo Sandoval for the final out.
Madison Bumgarner got the victory in relief.
"It'll be fun to go back there and relive the moments from a couple of years ago," Giants first baseman Brandon Bolt told the Oakland Tribune. "At the same time, we definitely have a job to do. We definitely have to turn this around."
The Giants are 5-9 and in last place in the National League West. They have lost five of seven on the road.
Royals manager Ned Yost went to high school in Dublin, Calif.
"The Giants were always my team that I rooted for when I was growing up," Yost said. "I loved the Giants, so anytime we can play the Giants or the A's, it's a fun series for me, but especially the Giants.
"We get to face Cain and Bumgarner, two really good pitchers. It should be an interesting matchup."
The Giants probably will activate four-time National League All-Star catcher Buster Posey before the game Tuesday. He has been recovering from concussion-like symptoms.
Posey said he felt "very good. As normal as normal can be. With these things, you don't ever want to declare something too soon."
The Giants will be without outfielder Jarrett Parker, who had surgery Sunday to repair a fractured right clavicle. He is expected to be out eight to 10 weeks.
Parker sustained the injury Saturday when he slammed into the wall while catching DJ LeMahieu's flyball in the Rockies' 5-0 victory.
"He was really down, to be honest, but I think he feels better that he'll be back this year," Giants manager Bruce Bochy said.
The Royals have won four straight to even their record at 6-6. They are 6-3 against American League West Division clubs.
Excellent starting pitching has keyed Kansas City's success. The starters have a major league-leading 2.31 ERA, giving up 19 runs in 74 innings.
During the four-game winning streak, Royals starting pitchers have a 0.63 ERA, allowing two runs and 13 hits over 28 2/3 innings. Right-hander Ian Kennedy pitched eight shutout innings and struck out 10 Sunday in a 1-0 victory over the Los Angeles Angels.
Hammel (0-1, 6.52 ERA) is the last Royals starting pitcher to lose.
"I found my slider, so that's a good thing," Hammel said. "I haven't had it since we left spring training. Now, I just have to get my fastball command back."
Hammel is 0-3 with a 3.17 ERA in 11 career appearances against the Giants.
Cain takes a 1-0 record with a 4.82 ERA into the game. He is 9-14 with a 3.43 ERA in interleague games.
The Royals will make a roster move before the game. They optioned rookie right-hander Jakob Junis to Triple-A Omaha on Monday. Junis worked one scoreless inning against Oakland in his major league debut Wednesday.
The Royals said they would make a corresponding move Tuesday to replace Junis.