Royals expect 'patience and work' to lift them from offensive funk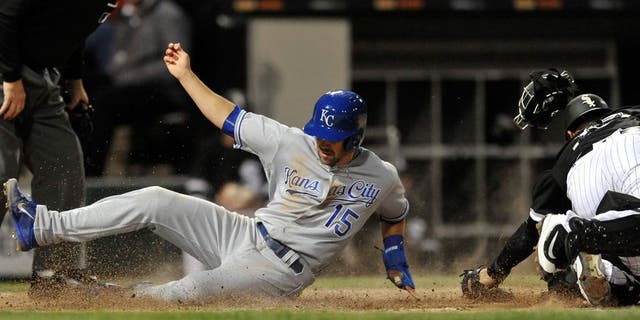 Nineteen games into the season is too early for Kansas City Royals manager Ned Yost to start fretting too much about his team's lack of offense.
However, as the Royals continue to struggle to score runs and collect hits heading into their Tuesday game against the Chicago White Sox, Yost will rely on pitching and defense until the bats warm up.
"Starting pitchers have done a great job, the bullpen has been doing a really, really nice job," Yost said before Kansas City's 12-1 loss to the White Sox on Monday in which the Royals collected only two hits.
Danny Duffy (2-0, 1.32 ERA) will take the mound for the Royals on Tuesday against Chicago's Dylan Covey (0-1, 7.84 ERA).
Covey has never faced the Royals, while Duffy has a career record of 6-2 with a 3.20 ERA in 16 appearances, including 14 starts, against the White Sox.
Duffy is coming off a no-decision in which he allowed no runs on four hits over 7 1/3 innings Thursday against Texas.
The Royals dropped a 1-0 decision to the Rangers, which started a seven-game stretch during which Kansas City has scored no more than two runs per game. While Duffy and his fellow starters have held up their end of the bargain, Kansas City's bats have remained cold.
During their current five-game skid, the Royals have been outhit by their opponents 26-6.
"We talk about it every day," Yost said. "We just wait for it to turn."
Although the pitching and defense have kept the Royals in games, the lack of run support has taken its toll. Despite the struggles from the plate, however, Yost points to the proven track records of hitters who historically have come around.
"The way you get out of it is through patience and work," Yost said. "You just keep working and eliminate as much frustration as you can because that just leads to more (struggles) and a longer stretch, and so you just stay calm and just keep working at it."
Like Yost, White Sox manager Rick Renteria has experienced his own share of frustration with how his team has hit for much of the young season.
In the White Sox's past four losses, Chicago managed to score a total of three runs. As with the Royals, Renteria has seen his defense hold its own, sparked by second-year shortstop Tim Anderson.
On Monday, Anderson had a career-high three hits, as did Matt Davidson, who drove in four runs in Chicago's lopsided victory. But while the offense hasn't usually been as proficient as it was Monday, Renteria -- like Yost -- is relying on other aspects of the game to keep the White Sox moving forward.
Despite having a limited sample size with which to work, Renteria likes what he is seeing in the field.
"We're playing good defense," Renteria said. "The guys are performing well, preparing every day to do what they need to do. … I think it's just guys going out and playing the game. Guys are executing, and they're in the right spots."
Yost won't give too much credence to the notion that defensive placement and shifts put on with certain hitters are behind the Royals' lack of offense. While shifts can make collecting hits more difficult, Yost said his hitters have struggled to be patient and have swung at too many pitches outside the strike zone.
So until everything comes together offensively, Yost will continue to focus on what has worked, knowing that eventually things will turn around.
"We're just not having great at-bats right now," Yost said, "but that changes."