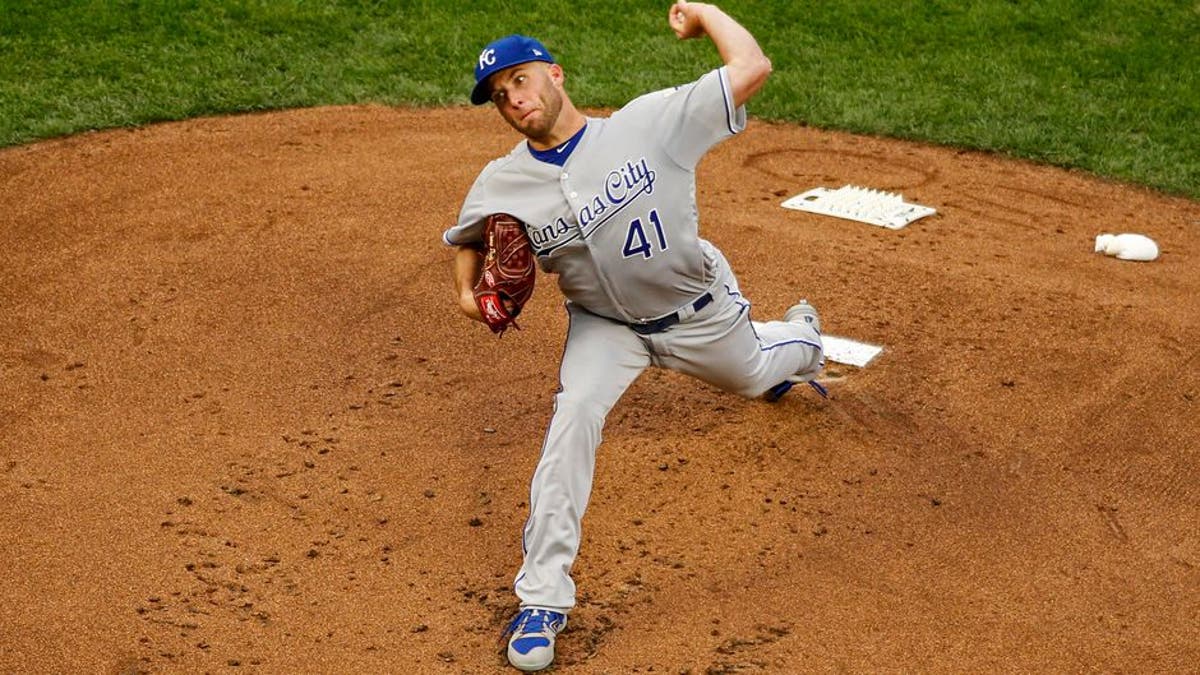 NEW YORK -- Five days ago, Danny Duffy enjoyed tremendous success in shutting down the New York Yankees.
An effective slider was a key element that day, and Duffy looks to replicate it Tuesday night when the Kansas City Royals continue a four-game series with the Yankees at Yankee Stadium.
According to fangraphs, Duffy (3-3, 2.97 ERA) is throwing his slider a career-high 29.3 percent of the time this season, up from 23.5 percent in the previous two seasons.
On Thursday in Kansas City, he pitched seven scoreless innings, allowed three hits and two walks and struck out 10 in the Royals' 5-1 victory. He entered the game with a strikeout rate of 17.7 percent but increased it to 19.1 percent by making liberal use of the slider.
"Not babying it, not trying to manipulate the movement," Duffy said of the difference in the slider's effectiveness Thursday. "Just let the grip and the release point play for itself."
He used the pitch to get six strikeouts and three other outs. Overall, Duffy threw the pitch 40 times as opposed to 17 times in his previous start against the Baltimore Orioles.
"I think I was (using it more), but not as much as I would have liked," Duffy said. "I was getting to 0-2, 1-2 and throw a strike slider when I needed to bounce it."
With the Thursday win, Duffy improved to 2-2 with a 5.46 ERA in eight career outings (six starts) against the Yankees.
"Danny was just on the attack all night," Royals manager Ned Yost said.
Duffy turned in his fourth career double-digit strikeout game. He also threw a season-high 108 pitches while completing seven innings for the fifth time this year.
"When you see a slider, you can see the spin, but on his slider I didn't see it," Yankees second baseman Starlin Castro said. "He didn't make too many mistakes."
Duffy's last outing also saw him thrive with runners in scoring position. He held the Yankees hitless in seven at-bats with runners in scoring position after allowing a .333 average in those situations during his first eight starts.
Duffy made a pair of scoreless relief appearances in New York when the teams met in mid-May of last season. On Sept. 6, 2014, in New York, he exited after throwing one pitch due to a shoulder injury and was not credited with making a start.
Duffy will be hoping his teammates can be more productive than they were Monday. The Royals (18-26) opened the series with a 4-2 loss by going 0-for-10 with runners in scoring position, resulting in their fifth loss in seven games since getting within five games of .500 on May 14.
The Yankees claimed the series opener by getting home runs from Brett Gardner, Didi Gregorius and Chris Carter. Michael Pineda pitched effectively into the seventh, and the Yankees are hoping for similar results Tuesday from Jordan Montgomery.
Montgomery (2-3, 4.81 ERA) will oppose Duffy for the second straight start. He took the loss after allowing a career-high five earned runs and four hits in five innings Thursday.
Unlike Duffy, Montgomery made a few mistakes with a slider, specifically on the pitch Mike Moustakas turned into a three-run home run.
"A slider that didn't slide," Montgomery said. "I didn't have the best command. Still, I knew they were going to be free swingers at the first pitch, and I left a couple of balls up."
Despite the worst of his seven career starts, Montgomery is still doing well in other areas. Opponents are batting .216 (8-for-37) with runners in scoring position against him, and his ratio of allowing 0.92 home runs per nine innings is the lowest among New York starting pitchers.