Royals acquire outfielder Gomes from Braves for minor-league SS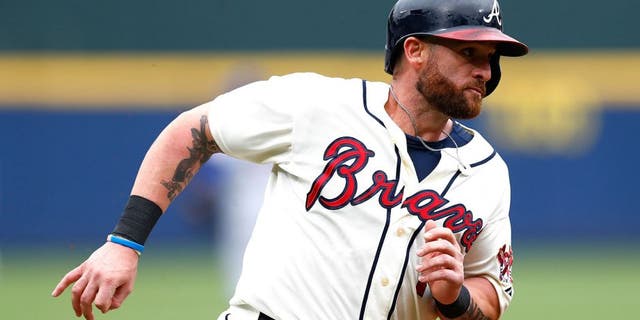 NEWYou can now listen to Fox News articles!
ATLANTA -- The AL Central-leading Kansas City Royals reached a deal to get outfielder Jonny Gomes from the Atlanta Braves.
The Braves tweeted:
Gomes left Monday night's game in Atlanta against Miami after the fifth inning, hugged his teammates in the dugout and began packing up his belongings in the clubhouse.
The 34-year-old Gomes has been in the postseason four times since 2010 and helped Boston win the World Series two years ago. The Red Sox traded Gomes and ace Jon Lester to Oakland last year for outfielder Yoenis Cespedes and a draft pick.
Gomes hit .221 with seven homers and 22 RBI in 195 at-bats with Atlanta. He was playing left field for the Braves, and has been a designated hitter during his career. He also pitched Friday in a blowout loss.
Kansas City, last year's AL champion, began the day 13 games up in the AL Central. The Braves started the day 18 games out of first place in the NL East.
Valenzuela, who turned 22 on Aug. 25, was hitting .339 with three homers and 15 RBI and had eight stolen bases in 47 games for Class-A Lexington.