Roy returns for Buffalo after missing four months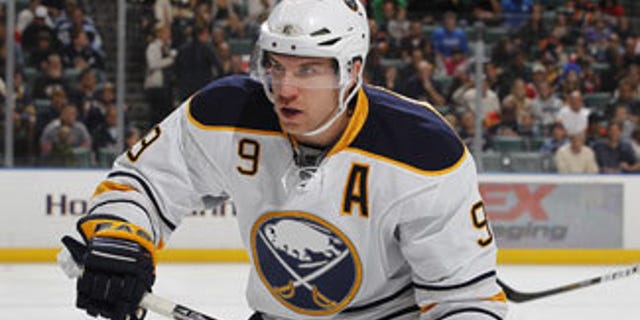 PHILADELPHIA -- Four months ago Derek Roy was stuck at home, waiting for surgery to fix his torn left quadriceps muscle and wondering if he'd play again this season.
He'll have a chance Tuesday night to see if his dramatic comeback will last more than one game.
Roy will play in Game 7 against the Philadelphia Flyers (7:30 p.m. ET, VERSUS, TSN), his first game since getting hurt during a game Dec. 23 against the Florida Panthers.
"I just have to relax and take it easy," he told reporters following Tuesday's morning skate. "Make sure I'm ready and obviously going to get a little bit nervous and whatnot, but you have to put that behind and focus on what you have to do."
Roy, who had 35 points in 35 games prior to the injury, said he feels 100 percent physically and all the extra work on and off the ice he's been doing has him confident his leg will hold up fine.
"I've been working on all the aspects of the game," he said. "Working on battling, working skating, pivoting -- I just have to use that in the game, utilize what I've worked on the past month."
Roy said his only concern is getting back into the flow of an actual game, rather than just practice.
"The timing, the speed of the game," he said when asked what would be the hardest part. "When you're skating by yourself it's a lot different. When you're skating with these guys, even doing a little bit of power play this morning, it's different. You've got to get adjusted to the pace."
Coach Lindy Ruff expects Roy to pick it back up in a hurry. With injuries the last two games knocking out Jason Pominville and Tim Connolly, the Sabres don't have the luxury of easing one of their top offensive threats back into the lineup.
"We need him to do a lot," Ruff said. "I look at it like we need him to step in and be a big player. It's tough. He hasn't been in the game in four months, but we're ready to give it a go. … Things are going to have to happen quicker. Might take him a few shifts, but I think he's up to the task."
Roy's average ice time of 19:32 per game led all Sabres forwards in the regular season. His ice time for Game 7, however, will be determined by how he feels as the game goes on.
"The cardio and the timing is not as good as it was when I was playing," Roy said. "Have to catch up real quick. First few shifts I have to play smart, do the little things right and build off those."
The danger, though, does come in trying to do too much.
"I have to play smart," Roy said. "Just move the puck and do what I do best. Just move the puck and skate and get pucks toward the net, make plays. And when the play's not there, just keep it simple."
Roy skated between Tyler Ennis and Drew Stafford during Tuesday's practice, but that doesn't necessarily mean they'll play together during the game.
"It's exciting that he's back," Ennis told NHL.com. "He's been out a long time. It's a boost for our team mentally. Derek can bring a lot to the table. He penalty kills; we all know how offensive he is, great on the power play, creates a lot when he's out there."
Brad Boyes compared the boost the Sabres will get from Roy's return to the one the Flyers got from Chris Pronger, when he returned to the lineup for Game 6.
"They put a guy like Pronger in and just putting him in the lineup makes a difference," Boyes said. "We're going to have the same feeling when Derek's in there. … Anytime you get him, whether he's 20 percent, 30 percent, 100 percent, he's going to help out."
Contact Adam Kimelman at akimelman@nhl.com. Follow him on Twitter: @NHLAdamK