Roy Halladay, former MLB star, killed in plane crash off Florida
Former Major League Baseball pitcher Roy Halladay was killed Tuesday when a small plane he was piloting crashed in the Gulf of Mexico off the west coast of Florida. He was 40 years old.
The Pasco County Sheriff's Office said Halladay was the only person on board the ICON A5 when it went down in shallow water shortly after noon off New Port Richey. The sheriff's office marine unit responded and discovered Halladay's body in shallow water near some mangroves. No mayday calls were made to Tampa air traffic controllers.
"He loved to fly," Sheriff Chris Nocco said of Halladay, an eight-time All-Star and two-time Cy Young Award winner. "He talked about his family, baseball and flying."
In a statement, the sheriff's office described Halladay as "an incredible friend," noting that the former pitcher had donated money for the department to purchase a K9 officer. The dog was named "Doc," a nod to Halladay's nickname.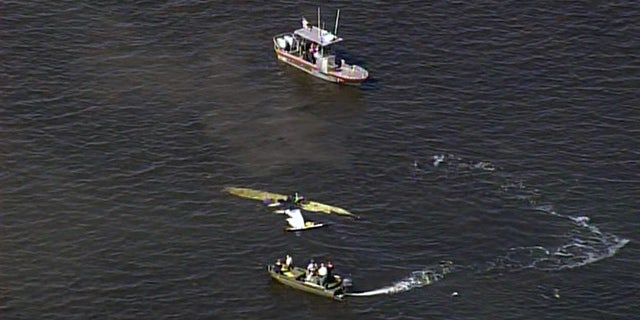 Halladay was an amateur pilot who often posted on social media about small planes. ICON aircraft had posted a video with Halladay trying out a new plane. The video showed Halladay taking delivery of a new ICON A5, a two-seat "light-sport aircraft" that can land on water.
In the video, Halladay said the terms of his baseball contract prevented him from having a pilot's license while playing, and that his wife was originally against the idea of him getting the aircraft.
"She's fought me the whole way," Halladay said.
"Hard. I fought hard. I was very against it," Brandy Halladay said in the same video, before explaining why she eventually understood and approved of her husband's desire to have the plane. The couple have two sons, Ryan and Braden.
Halladay pitched for 16 years in the major leagues with the Toronto Blue Jays and the Philadelphia Phillies before retiring following the 2013 season.
"We are numb over the very tragic news about Roy Halladay's untimely death," the Phillies said in a statement. "There are no words to describe the sadness that the entire Phillies family is feeling over the loss of one of the most respected human beings to ever play the game."
The Blue Jays said the organization "is overcome by grief with the tragic loss of one the franchise's greatest and most respected players, but even better human being. Impossible to express what he has meant to this franchise, the city and its fans."
Current and former players responded with an outpouring of emotion on social media. Vernon Wells, a former Blue Jays teammate, called Halladay "one of the best to ever do it."
"I wanted to be Roy Halladay. I'm heartbroken, rest easy Doc ," tweeted former pitcher Dan Haren, who posted a photo of a signed Halladay jersey.
Halladay won the Cy Young Award twice, once in 2003 with the Blue Jays and again in 2010 with the Phillies. Only five other pitchers have won the award in both the American and National Leagues, and three of those – Randy Johnson, Pedro Martinez and Gaylord Perry – are in the Baseball Hall of Fame.
During that 2010 season, Halladay went 21-10 for the Phillies with a 2.44 ERA. In addition to winning the Cy Young Award, Halladay finished sixth in the voting for National League MVP. He pitched the 20th perfect game in MLB history on May 29 of that year against the Marlins and followed that up with a no-hitter against the Cincinnati Reds in Game 1 of the National League Division Series.
In 2011, Halladay was part of the "Four Aces" rotation in Philadelphia with Cliff Lee, Cole Hamels and Roy Oswalt. Halladay and the Phillies lost 1-0 to St. Louis in the deciding Game 5 of the NL Division Series.
"To the world, Roy was one of the best pitchers in baseball, but to me, he was an inspiration, a great mentor, teammate, and most important, a friend," said Hamels, now with the Texas Rangers. "His preparation and work ethic has and will forever be ingrained in me. Roy was a man of few words, but he lit up when his boys were around. His family and this game were everything to him, and there will never be a day in my own life that I won't miss him."
In an era where starting pitchers went deep into games less frequently, Halladay threw 67 career complete games -- including 20 shutouts -- and was the active leader in that category when he retired.
Other baseball players to die in plane crashes included Pittsburgh Pirates star Roberto Clemente in a relief mission from Puerto Rico traveling to earthquake victims in Nicaragua on New Year's Eve in 1972; New York Yankees catcher Thurman Munson piloting his own plane near his home in Canton, Ohio, in 1979; and Yankees pitcher Cory Lidle piloting his own plane in New York City in 2006.
Halladay was nominated several times for the Roberto Clemente Award, given by Major League Baseball to players for sportsmanship and community involvement. The Halladay Family Foundation has aided children's charities, hunger relief and animal rescue.
Halladay would be eligible for induction into the Hall of Fame in 2019.
"Absolutely I would love to be there," he said during spring training this year, when he was a guest instructor for the Phillies. "I think every player who ever played the game would love to be there. It would be a tremendous honor."
The Associated Press contributed to this report.