Route 66 track records fall during Friday NHRA qualifying in Chicago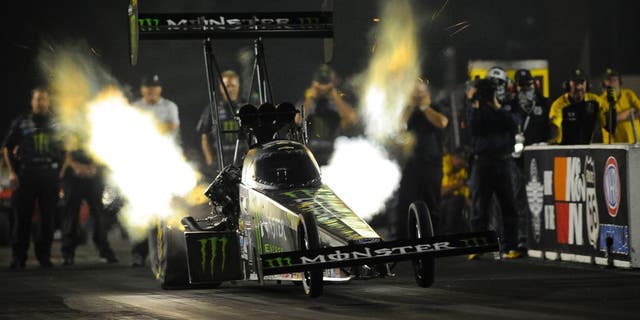 NEWYou can now listen to Fox News articles!
Four NHRA drivers know how to get their kicks at Route 66.
Brittany Force (Top Fuel) and Ron Capps (Funny Car) both established track records en route to provisional No. 1 qualifying positions at the NHRA K&N Filters Route 66 Nationals outside of Chicago.
Also securing monumental No. 1 through two sessions were Shane Gray (Pro Stock) and Matt Smith (Pro Stock Motorcycle).
Force, daughter of 16-time NHRA champion John Force and driver of the Monster Energy Top Fuel dragster, drove her way to the fourth quickest ET in 1000-foot history at 3.692 seconds at 325.69 mph in her Monster Energy dragster.
Running a blistering pass the likes of what she did on Friday wasn't a bad 30th birthday present for Force.
"Running a 3.69, I got out and was shocked we ran that just because it was such a big jump from our first run (3.785)," Force said. "It felt good, I got out and thanked my team and my crew chief and Alan Johnson, they are the ones who make it happen. It really is a team effort, and every single guy puts everything into that car. Being No. 1 is exactly where we want to be and is absolute best birthday present ever.
"This was awesome, and (Friday) was very special. My whole team decorated my whole lounge with balloons and streamers, and that just made the day so special. Then to come out here and end the day as the No. 1 qualifier, I couldn't have written it any better."
The NAPA Auto Parts-sponsored Capps continued his laid-back, but torrid, pace, scoring at least provisionally his fourth No. 1 in the last five events.
"To do what we've done with No. 1 qualifiers and win three out of those four races is just so above and beyond," said Capps, a four-time winner this season. "There are too many good teams, and it ain't going to last, but as long as we're one of the top cars and we can just keep doing what we are doing, we can have fun until the end of the year. All its doing is making these other crew chiefs go back to the drawing board, and that's what made Rahn Tobler go back to the drawing board in Topeka.
"It's fun right now in Funny Car, and it's great to run as we're running, and we will keep trying to chug away at it."
Capps has made 29 out of the last 34 runs in the three-second zone.
"That gives me confidence," Capps said.
Pro Stock's Gray entered where only one driver outside of the three-car KB Racing team has been all season.
The Valvoline-sponsored Gray gained Friday's No. 1 spot with a 6.578 at 209.43 to pace the 16-car field.
"I think we are catching up we just need to find the consistency to go and repeat what we did tonight, tomorrow," Gray said. "It showed tonight that we've got it. We're capable. I've got a wonderful group of guys from [crew chief] Dave Connolly on down and great guys in the engine shop. My dad [retired Funny Car driver Johnny Gray] has supported this deal for seven years and we couldn't do it without him for sure. Everything is starting to come around, and it's actually fun to be at the racetrack."
KB Racing teammates Bo Butner, Jason Line and Greg Anderson were second through fourth.
Matt Smith also stopped the Vance & Hines Screamin' Eagle Harley-Davidson's stranglehold on qualifying at least provisionally.
Smith, a second-generation drag racer, scored a Route 66 Raceway track record with a 6.842 ET at 195.51 mph.
"Our Victory Gunner is running strong," Smith said. "We've done a lot of work and did a lot of testing. We've had a lot of gremlins and bugs that have bit us this year. When we qualify, we are fast. We've been very, very good when we've gone down the track, and hopefully, it will stand up and be No. 1 tomorrow. I know it is supposed to be cooler, but we are going to swap motors tomorrow. We have a good piece here, and we will put it back in on Sunday if we need to."
***
Bobby Bennett is the Publisher/Editor of CompetitionPlus.com, a leading independent online drag racing magazine, since 1999. For the latest in dragster news worldwide, visit www.competitionplus.com or follow on Twitter @competitionplus