RotoWire: Fantasy NASCAR race preview Kobalt Tools 400 driver picks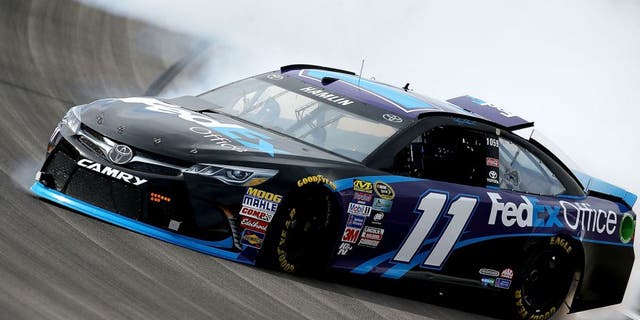 The NASCAR Sprint Cup Series will make their annual visit to Sin City this weekend for the race at Las Vegas Motor Speedway. The intermediate oval in the Nevada desert plays host to the Kobalt Tools 400 this Sunday afternoon. This is our second straight week of racing on a cookie-cutter oval. This race combined with the previous week's race at Atlanta will set the expectations for the races to come on the intermediate tracks this season. With this being the third race of the season, we should begin to see some trends form, especially after racing on cookie cutter ovals two weeks in a row. This race will be a good example of what we can expect going forward for many of the drivers. Those who perform well at Las Vegas are set up to run well at upcoming facilities like Texas, Charlotte and Kansas. So what happens in Las Vegas doesn't necessarily stay in Las Vegas, at least in terms of racing. This style of track makes up a vast percentage (33 percent) of the ovals that the Sprint Cup Series races on, so this 400-mile event will be an early season barometer for what's to come. The drivers that succeed this week will be ones to watch in the coming weeks.
LVMS is just the second of our many intermediate ovals on the Sprint Cup Series schedule. While the banking and configuration varies a bit from the other intermediate ovals, Las Vegas should be a good indicator of what to expect for most of the drivers in 2016 on these style tracks. Since historical data is so valuable in developing our weekly driver list, we'll take a quick look at these track specific statistics. The loop stats in the table below span the last 11 years of competition at this 1.5-mile oval. Let's take a look at the loop stats for the last 11 races at Las Vegas Motor Speedway for some background on the drivers.
Las Vegas Motor Speedway has been a track of parity the last several seasons. We've seen different racing camps and different manufacturers dominate at the Nevada oval. Ford, Chevrolet and Toyota have each won in the last three years at LVMS, so no one really holds a grip on this race track. Last season the Sprint Cup Series returned to the Nevada desert and Kevin Harvick rolled into victory lane for the first time at the 1.5-mile tri-oval. With Harvick picking up that victory at the intermediate oval our focus shifts to the possibility of a potential streak developing at this facility. However, before we cede the trophy to a Chevrolet camp we need to realize that contenders will come from several different stables this weekend. Toyota, Ford and Chevrolet drivers have each scored a win at Vegas in the last three seasons. Joey Logano and Brad Keselowski in addition to Kyle Busch will be among some of the drivers knocking at the door. The dark horse candidates will be the Joe Gibbs Racing teams. Matt Kenseth and Carl Edwards have each won multiple races at the Las Vegas oval. So if an upset is to occur it could come in the form of the No. 20 or No. 19 Toyota teams. Coming off Jimmie Johnson's big Atlanta victory, we wouldn't rule out that scenario either. Also we wouldn't rule out Denny Hamlin who's yet to really leave his mark on this track. Here are our picks for fantasy racing success at Las Vegas Motor Speedway this weekend.
The Contenders - Drivers in the hunt for the win
Kevin Harvick - The track in Las Vegas has produced a lot of repeat winners, and it could again with last year's winner, Harvick. The No. 4 Stewart Haas Racing team is fresh off strong performances at both Daytona and Atlanta as this veteran driver is off to a great start to the season. The driver of the No. 4 Chevrolet has strong career numbers at LVMS, despite having just the one-career win there. Harvick owns an impressive 13.8 average finish over the his15 starts at Las Vegas Motor Speedway and has four Top 5s and six Top 10s over that span. Harvick led 142 laps en route to the dominant victory at this facility one year ago, and you can bet the notes from that outing will come in handy this weekend.
Jimmie Johnson - Four-time Las Vegas winner Johnson will look to reignite his dominance at the oval in the Nevada desert this weekend. The No. 48 team is the current active wins leader at LVMS, but he's only won one race at the track in the last eight tries. Johnson is looking to get back into victory lane at the 1.5-mile speedway this weekend. Intermediate ovals have always been a favorite of the six-time champion and he's looking to reestablish his dominance at these facilities. Coming off the big Atlanta victory this past weekend, momentum shouldn't be a problem for the Hendrick Motorsports star. With numbers that include 500 laps led, five Top-5 and eight Top-10 finishes in 14 starts, how can we not like the Atlanta victor this weekend?
Kyle Busch - The driver of the No. 18 Toyota missed this race at his hometown oval one year ago. He was recovering from the Daytona injuries that sidelined him a good portion of last season. So Busch will certainly be looking forward to this event in Las Vegas. The Joe Gibbs Racing star was very strong at the similar oval in Atlanta last week by racing from the rear of the field to finish third in the Folds of Honor QuikTrip 500. Busch was in contention for the win at the end of that race. He's a one-time winner at his hometown track, and that victory came back in 2009. Busch has led 79 laps in just his last two outings at LVMS, and came up short of the victory. He'll be a hungry driver and force to be reckoned with in the Kobalt Tools 400.
Matt Kenseth - The Joe Gibbs Racing driver made his mark on the Nevada oval early in his career with two victories in the first five races at the track. Kenseth broke a nine-season dry spell by returning to victory lane at LVMS with the No. 20 Toyota team in 2013. He led 42 laps that March afternoon and out-dueled Kasey Kahne for the win. Kenseth has led over 500 laps for his career at Vegas and sports a strong 38-percent Top-5 rate at the track. Those numbers place him among the elite performers at this oval in the Sprint Cup Series. Considering how strong the No. 20 Toyota looked at Atlanta this past week before the pit road penalty took him out of contention, it's difficult not to consider Kenseth this Sunday afternoon.
Solid Plays - Drivers who are near locks for the Top 10 with an outside shot at winning
Carl Edwards - With two victories and five Top 5s in the last eight Vegas races, Edwards is one of the more successful drivers in the Sprint Cup Series at this intermediate oval. He will be making his second start at the oval with his No. 19 Joe Gibbs Racing Toyota team. Intermediate ovals were good venues for Edwards in 2015. He claimed one win and eight Top 10s on these style ovals last season. He's also kicked off this season well on the intermediate ovals. The driver of the No. 19 Toyota posted a Top 5 performance at Atlanta this past week in the Folds of Honor QuikTrip 500. The Joe Gibbs Racing star has a great deal of upside in the Kobalt Tools 400.
Dale Earnhardt Jr. - Earnhardt has had a love-hate relationship with Las Vegas Motor Speedway over the years, but it's been trending more to the love side the last few seasons. Earnhardt rides into Vegas with a ton of momentum after his strong runner-up finish at Atlanta Motor Speedway this past weekend. To his credit, the driver of the No. 88 Chevrolet also rides a five-race Las Vegas Top-10 streak into this weekend's Kobalt Tools 400. In this race last year, Earnhardt led 4 laps and claimed an impressive fourth-place finish. That has been the norm for this Hendrick Motorsports star at the Nevada speedway. It should be another great outing Sunday at LVMS.
Joey Logano - Logano has been the most consistent 1.5-mile oval performer of the last two seasons. Las Vegas Motor Speedway has been no exception to that rule. He's going to continue carving out that reputation this Sunday afternoon. The driver of the No. 22 Ford has a strong 12.0 average finish at the oval, and he's led close to 100 laps there in just his last two starts. He's started on the front row in both of those races and finished inside the Top 10 in both as well. Logano had a bit of a sub-par outing at Atlanta this past week, but that shouldn't be much of a concern. That was a race of tire-management and we won't see that in Sunday's race at Las Vegas.
Brad Keselowski - The one-time Las Vegas winner looks to keep his good roll going in the Kobalt Tools 400. Keselowski struggled mightily to crack the Top 10 at Atlanta this past week, but that in no way reflects on his prospects for Las Vegas. The Penske Racing star has really made headway at this intermediate oval in his last few visits. He has one pole position, 75 laps led, one victory and three Top-10 finishes in those last three efforts at the Vegas oval. It's for this reason alone that we think Keselowski will be strong this weekend, stronger than he was at Atlanta. However, we don't believe he's ready to win in 2016 just yet.
Sleepers - Drivers with good history at Las Vegas who can provide a solid finish
Denny Hamlin - The Joe Gibbs Racing veteran doesn't have the best career stats at Las Vegas. Despite a career 50-percent Top-10 rate at LVMS, most of his success came earlier in his career at this oval. Only one of his last four races at this facility has netted a Top-10 finish. Hamlin is coming off a Daytona 500 victory and a fast car at Atlanta this past week before circumstances led to a sub-par finish. So the Joe Gibbs Racing team has been putting very fast cars under Hamlin to start the season. This veteran driver was one of the top intermediate oval performers of last season's Chase for the Cup, and we believe he'll rediscover that momentum this weekend. Hamlin finished fifth in this event one year ago, so that will be a good mark to try to equal.
Martin Truex Jr. - The Furniture Row Racing driver is carrying his strong 2015 season into the new campaign. After strong performances at Daytona and Atlanta that have led to second- and seventh-place finishes, the No. 78 team comes to Vegas on a roll. Truex comes to Nevada second overall in the championship standings and looking to make a statement. Las Vegas Motor Speedway has held some recent success for this veteran driver. He has three Top-10 finishes in his last five visits to LVMS. Truex's average finish over that five-race span is a surprising 9.4. This is the perfect combination of a track-specific fantasy play combined with a hot driver. Fill your lineup with the No. 78 Chevrolet and you won't regret it.
Paul Menard - This promises to be a good weekend for Menard at Las Vegas. He has always raced well here and even has three Top-10 finishes in his last four visits to LVMS. The Hendrick Motorsports veteran is coming off a steady 18th-place finish at Atlanta last weekend and his focus is for better this week. Menard sports the consistency at this intermediate oval that fantasy racing players crave. The driver of the No. 27 Chevrolet has raced to an average finish of 16.7 for his career at this facility. That has improved to 8.8 over just the last five starts at the Vegas oval. Since moving to Richard Childress Racing in 2011, this veteran driver has outperformed at Las Vegas Motor Speedway.
Ryan Newman - The Richard Childress Racing driver had a good car at Atlanta last week. He qualified fourth on the starting grid, but couldn't manage the tires to get the good finish. He now turns his focus to an oval that has been successful for him in recent seasons. Newman has three Top-5 and four Top-10 finishes in his last five trips to Sin City. That builds on a career resume that includes eight Top 10s in 15 starts. The last time we saw this veteran driver in action on the Vegas oval, he was racing to an impressive third-place finish in last season's Kobalt Tools 400. Newman should be just as dependable in this 400-mile event.
Chase Elliott - After a disappointing Daytona crash and poor finish, the rookie rebounded well at Atlanta last week. Elliott quickly raced his way from the middle of the pack in the starting grid and inside the Top 10 by the first pit stops. He would remain there the rest of the afternoon and collect his first-career Top-10 finish. Now the talented Hendrick Motorsports youngster will set his sights on a big Las Vegas debut. The track won't be completely unknown to Elliott. He made two Xfinity Series starts at Las Vegas over the last two years. Those were a pair of strong fifth-place finishes in NASCAR's second-largest touring series. The No. 24 team is strong, Elliott is wildly talented, and he's getting better with each race.
Jamie McMurray - The Chip Ganassi Racing driver will look to build on recent success at the Las Vegas oval this Sunday afternoon. McMurray owns one Top-10 and four Top-15 finishes at the desert oval in the last four seasons. The No. 1 Chevrolet was powerfully strong at Atlanta last week and McMurray put it on the outside pole position. However, he had problems with handling later in the race and didn't get the finish he deserved. The veteran driver should make up for it this weekend at a track where he's been pretty dialed-in the last few years. McMurray should crack the Top 15 again in Sunday's Kobalt Tools 400.
Slow Down - Drivers to avoid this week
Kyle Larson - We're very high on the young Ganassi Racing driver, but consider this week just a temporary downgrade for Las Vegas. Intermediate ovals have presented a real challenge for Larson dating back into last season. Only two of his last 10 starts on these style tracks have culminated in Top-10 finishes. The young driver had a very fast car at Atlanta last week during practice, but he couldn't convert it to a good starting position nor a good finish. Larson really battled the handling issues. Las Vegas has been a mixed bag for Larson in just two career starts. 19th- and eighth-place finishes have been the result. The inconsistency on these style ovals is enough to warrant a "break" from fantasy racing for just this week.
Clint Bowyer - Speaking of drivers we observed in Atlanta last week, we can't leave Bowyer off that list either. The No. 15 Chevrolet team's debut on intermediate ovals for 2016 was a very forgettable adventure. Bowyer was in the hole early and many laps down with a car he could just not manage. It led to a shocking 35th-place finish at Atlanta Motor Speedway. The HScott Motorsports team will attempt to regroup and improve at Las Vegas this week. But before they get their hopes up too far, we need to look at Bowyer's recent outings at the Nevada oval. Only one of his last five starts at the track have netted Top-10 finishes. Three of those efforts have been finishes outside the Top 20. It's best to stay clear of Bowyer and this small race team until they get things figured out later in the season.
Kurt Busch - Considering how good he was at Atlanta last week, it's difficult to slot the Stewart Haas Racing star in the slow down list this week. He won the pole in Atlanta and finished fourth in last week's event. However, Busch will be battling a lot of history when he visits Las Vegas this week. The hometown track has not been kind to Busch over the years. With only three Top-10 finishes in 14 career starts, he's cracking the Top 10 here at a lowly 21-percent rate. Busch hasn't posted a Las Vegas Top 10 since the 2011 season. You can't put your finger on it, but whenever Busch visits LVMS things go wrong. Considering how strong the No. 41 team has been on intermediate ovals the last year, we're banking a lot on poor track history for this driver Sunday.
Trevor Bayne - After qualifying third at Atlanta last week, we finally thought that Bayne and the No. 6 team were making some headway. However, the young driver would quickly go from the front to the back after the drop of the green flag and finish a disappointing 22nd with what was clearly a fast car. This performance is a reflection of Bayne on the intermediate ovals over the last year. He has an average finish somewhere in the mid-20s on the 1.5-mile tracks dating back into last season. In five-career starts at Las Vegas Motor Speedway, Bayne has just one Top 10 and an average finish of 20.0. He finished 28th in this event one year ago, and he'll do well to improve on that mark this weekend.
Taylor is a three-time FSWA Racing Writer of the Year.
Get a FREE RotoWire 10-day trial (no credit card required) at RotoWire.com.