Rosenthal notes: Minnesota Twins continue to defy lowered expectations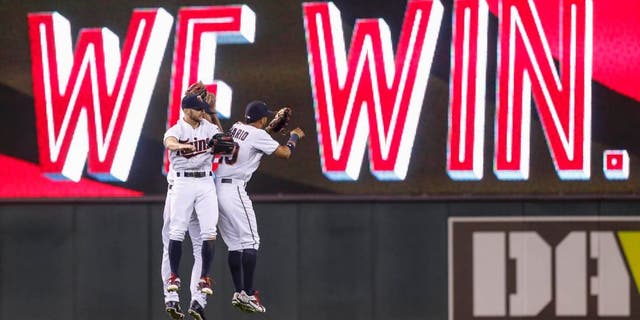 NEWYou can now listen to Fox News articles!
Those darned Twins, they're making fools of us all.
They started the season by getting swept in Detroit by a combined score of 22-1, then fell to 1-6 faster than you can say, "Sano."
They rebounded to lead the Royals-dominated AL Central as late as June 8, with statistical analysts hissing "regression," the unkindest sabermetric cut of all.
Then, the cute little Twinkies fell to 59-61 after getting swept at Yankee Stadium Aug. 17-19, seemingly puncturing their underdog narrative for good.
No. Sorry. Not yet.
The Twins have flipped the script again, winning eight of their last 10 games and moving within 1½ games in the race for the second wild card, with only the Rangers ahead of them.
Amazing. And even more amazing considering how much has gone wrong:
*The Opening Day shortstop, Danny Santana, and designated hitter, Kennys Vargas, are both in the minors.
*Two high-priced starters, Ricky Nolasco and Phil Hughes, are on the disabled list and didn't pitch well when healthy. This year's free-agent addition, Ervin Santana, missed the first 80 games due to a PED suspension, then had a 9.12 ERA in August before pitching seven scoreless innings against the Astros on Sunday.
*The rotation sports the fifth highest opponents' OPS, the bullpen the ninth highest. The 'pen also is third in save percentage -- a testament to the relievers' performance in high-leverage situations -- but closer Glen Perkins has pitched only twice in the past two weeks due to a bulging disc in his neck and then lower back spasms.
*The Twins' non-pitchers as a group are next-to-last in the AL in Wins Above Replacement, ahead of only the White Sox. First baseman Joe Mauer has a .335 on-base percentage, which easily would be the lowest of his career, and the combined OPS of the team's catchers ranks 13th in the AL.
We could go on -- the Twins' .291 OBP in August is their lowest of any month while their 4.82 ERA is the highest. But bottom line, the team is on pace to win 83 games -- probably not good enough for the postseason, but a 13-game improvement over a year ago.
So, how the heck are the Twins doing this?
The bullpen, prior to a ninth-inning meltdown Sunday, had been particularly good recently, allowing only three earned runs in 37 1/3 innings over the previous 10 games. Trevor May, Casey Fien and Kevin Jepsen, take a bow.
As for the offense, call it luck, but the Twins entered Sunday ranked fourth in the majors in OPS with runners in scoring position. Rookie designated hitter Miguel Sano is a "monster" in the words of one opposing manager. The outfield defense is good and will only get better once Aaron Hicks returns from a strained right hamstring and joins Byron Buxton and Eddie Rosario.
And let's face it -- while analysts such as my good friend Brian Kenny of MLB Network won't want to hear it -- the Twins succeeded in changing their culture by hiring manager Paul Molitor and signing Torii Hunter, even though Hunter's OBP is -- gulp -- only .290.
Will the Twins rally to grab a wild card? Fangraphs gives them only a 15.9 percent chance. Still, September is nearly upon us and the Twinkies remain in the conversation, defying the odds, making fools of us all.
TURNOVER IN TORONTO
The Blue Jays' hiring of Mark Shapiro as club president likely will have no immediate impact on general manager Alex Anthopoulos, whose contract expires at the end of October.
The expectation is that the Jays will retain Anthopoulos, but the dynamic under Shapiro will be different for the GM than it was under outgoing president/CEO Paul Beeston.
Shapiro likely will want to create more structure, more systematic decision-making. Under Beeston, Anthopoulos operated in a more free-wheeling environment. So, an adjustment is inevitable.
As I've written previously, the Jays have every reason to retain Anthopoulos, a native Canadian whose recent acquisitions revived the club and electrified the city. The guess here is that Anthopoulos be open to Shapiro's influence, and will even welcome it. If not, Anthopoulos figures to have other options.
AND IN BALTIMORE . . .
Jake Arrieta's no-hitter for the Cubs on Sunday night is not going to help the perception some have of Orioles GM Dan Duquette, who sent Arrieta and reliever Pedro Strop to the Cubs for potential free-agent right-hander Scott Feldman and catcher Steve Clevenger on July 2, 2013.
At the time of the trade, most recognized Arrieta as a high-ceiling arm with the potential to develop into a top-of-the-rotation starter. But let's not forget, he had a 5.46 ERA in 358 innings with the Orioles. It's to his credit -- and the Cubs' -- that he fulfilled his potential in Chicago.
Duquette, meanwhile, did mostly terrific work in helping the Orioles reach the postseason in two of the last three seasons. But his desire to pursue the Blue Jays' club presidency last off-season -- and the Orioles' refusal to let him depart -- created a lingering resentment among some inside the organization, resentment that carried over into the team's rapidly souring season, major-league sources say.
Some who are upset probably were counting on promotions if Duquette departed. Still, even some fans questioned whether Duquette grew distracted during his flirtation with Toronto (the Orioles and Blue Jays could not agree on compensation for Duquette; the Indians did not ask for compensation for Shapiro, choosing not to impede him if he wanted to leave, sources said.)
The Orioles' 63-67 record stems from a large number of factors, including a rotation that is 13th in the AL in ERA. Duquette, though, stumbled when he failed to adequately replace Nelson Cruz and Nick Markakis, both of whom left as free agents. And even though the GM acquired outfielder Gerardo Parra at the non-waiver deadline, he also traded reliever Tommy Hunter, leaving his bullpen vulnerable (neither Parra nor Hunter has performed particularly well for their new clubs).
The desire of Orioles owner Peter Angelos to hold Duquette to his contract was understandable; that contract runs through 2018. Still, Duquette would have been leaving for a promotion, and Angelos' stubbornness created an unhealthy environment around the club.
As if that is not enough, all this comes at a time when the Orioles are at a crossroads, facing the losses of a large number of free agents with a farm system that is too thin to keep the club strong.
It's a bit of a mess, no?
TALE OF YOENIS
Love this exchange that Mets manager Terry Collins related about a conversation he had with Yoenis Cespedes after the slugger joined the club.
"Mind playing center field?" Collins asked.
"I am a center fielder," Cespedes replied.
Collins also marveled that Cespedes had two hits, including a homer, after walking 18 holes at the Merion Golf Club before the opening game of a series in Philadelphia.
Another thing that has surprised Collins about Cespedes: The outfielder's speed.
Watching Cespedes round first base on a triple in Philly, Collins said he thought, "Oh my God."
DESMOND RISING
Nationals shortstop Ian Desmond had a .589 OPS and made 20 errors before the All-Star Game, raising questions about how he might fare in free agency at the end of the season.
Well, Desmond has turned around his season since the break, producing a .902 OPS and making only three errors.
The Padres, Mariners, Mets, Diamondbacks and Twins are among the clubs that could pursue shortstops, and teams such as the Yankees could sign Desmond to play short or second base (Didi Gregorius is superior to Desmond at short according to advanced defensive metrics).
The Nationals also should not be ruled out on Desmond; some scouts question whether Trea Turner has enough arm strength to play short, and believe he is better suited for second.
HE'S BA-ACK...
The Padres, who pulled back closer Craig Kimbrel after an unidentified team claimed him on revocable trade waivers, almost certainly would prefer to deal with 29 teams this off-season rather than just one.
Rest assured, there will be interest.
Since May 13, when Kimbrel had a 5.93 ERA, the closer has converted 26 of 27 saves with a 1.73 ERA and .493 opponents' OPS.
Those early concerns about his velocity?
Kimbrel's average fastball velocity for the season is now 97.3 mph, a figure that would be the highest of his career, according to Fangraphs.
Kimbrel's average velocity actually has increased incrementally in each of his six seasons, going from 95.4 to 96.2 to 96.8, then from 96.9 to 97 to 97.3.
ALL ABOUT THE RED SOX
*The Red Sox draw energy from their young players, and at times, in the words of interim manager Torey Lovullo, they run right by the opposition.
All is certainly not lost, not with an offense that, for all its troubles, ranks third in the majors in runs per game.
David Ortiz, lauding the improvements of players such as Jackie Bradley and Xander Bogaerts, said, "You see young guys doing that, there's hope. Kansas City was patient with Hosmer, Moustakas, Escobar. Now look."
*Two at-bats against the White Sox's Adam Eaton illustrate the turnaround for Red Sox right-hander Joe Kelly, who improved his fastball command and made better use of his breaking stuff while posting a 2.68 ERA in six August starts.
The first at-bat was on July 27, when Eaton hit Kelly's second pitch of the game, a 92-mph fastball, for a leadoff triple. The second was on Aug. 24, when Kelly started Eaton with a 76-mph curveball.
"I think Eaton was laughing, (thinking), 'What the heck was that?'" Kelly said.
Eaton grounded out after a nine-pitch struggle.
*Allen Craig is not exactly tearing it up at Triple A, batting only .271 with a .715 OPS in 339 at-bats. Still, the Red Sox figure to give him a September call-up, allowing new president of baseball operations Dave Dombrowski and other clubs to evaluate him.
Craig, 31, is owed $9 million next season and $11 million in 2017 plus a $1 million buyout on a club option. His return would be a minor hit to the Red Sox's luxury-tax payroll; Craig has not counted against that number since May 19, when he was dropped from the 40-man roster.
YES, HE CAN PLAY DEFENSE, TOO
Mets rookie left fielder Michael Conforto will be known for his bat, not his defense, but his play in left field has come a long way since his freshman year at Oregon State, when Conforto admittedly was "bad" at the position.
Conforto was a shortstop in high school who expected to play third at Oregon State. Problem was, the coaches wanted to squeeze him into the lineup and had an upperclassman at third. So, off to left field Conforto went.
His "below-average defender" label was difficult to shake, but by his junior year Mets scouts noted improvement. A high-ranking club official was skeptical -- "Has he improved because he can really hit?" the official asked the scouts. "Or has he actually improved?" But Conforto's progress, it turned out, was real.
The Cubs took Kyle Schwarber, another polished college hitter, with the fourth pick of the 2014 draft. The Mets feared that the Mariners would grab Conforto at No. 6, but the M's took high-school outfielder Alex Jackson instead. Pitchers Aaron Nola, Kyle Freeland and Jeff Hoffman went with the next three picks, leaving Conforto for the Mets at No. 10.
AROUND THE HORN
*Left-handed hitters are batting only .132 with an absurd .312 OPS against Dodgers left-handed prospect Julio Urias, but that doesn't mean the team views him as a potential left-on-left weapon in September.
Urias, who turned 19 on Aug. 12, has a 2.77 ERA in 13 starts since moving to Double A. One team official, however, attributes his success against left-handed hitters partly to "happenstance."
Urias, at 6-foot-2, 205 pounds, does not come at hitters with a devastating angle. He also lacks a killer breaking ball to neutralize lefties; his best secondary pitch is a changeup.
*It will be interesting to see how the Dodgers use Jose Peraza in the future.
Some with the Braves did not project Peraza as a super-utility man, in part because they believe he lacks the arm for shortstop. Those Braves officials view Peraza as a regular second baseman or bust. They like his speed and ability to make contact, but question his plate discipline.
*And finally, Astros shortstop Carlos Correa is the front-runner for AL Rookie of the Year, but should he be a lock?
Shortstop Francisco Lindor joined the Indians in mid-June, six days after Correa made his debut. And while Correa has received more attention, Lindor is nearly his equal in Fangraphs' Wins Above Replacement.
Lindor rates as a better defender, and he's batting .385 with a .947 OPS in August. His 80 hits in his first 65 games were the most by an Indians player in his first 65 games since Vic Davalillo had 84 in 1963.