Rosen accounts for 4 TDs in UCLA's rout of Arizona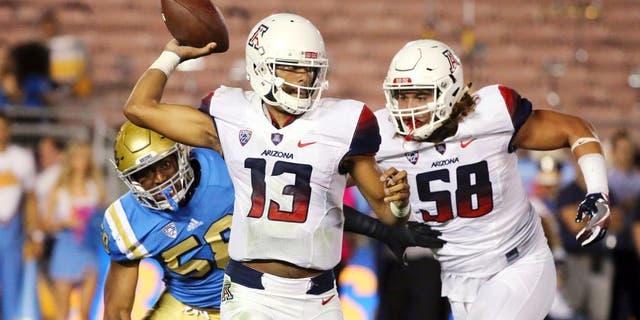 PASADENA, Calif. -- UCLA coach Jim Mora challenged his offense at halftime, asking them to play at the same level shown on defense and special teams through the first 30 minutes.
The Bruins responded, with Josh Rosen throwing two of his three touchdowns and rushing for one touchdown after the ultimatum, and UCLA pulled away from Arizona 45-24 on Saturday night.
Rosen was 20 of 37 for 350 yards, Kenneth Walker had four catches for 114 yards with a pair of touchdowns and Darren Andrews added 108 yards receiving and a 26-yard TD run.
"If we could just find a way to put it together as a football team we could be pretty darn dynamic, and that's the challenge," Mora said. "I think it's pretty evident we can play some really good defense. We can play some good special teams. We can play some good offense. We just got to do it all at the same time."
UCLA (3-2, 1-1 Pac-12) struggled to run the ball for long stretches, but it didn't matter as the injury-riddled Wildcats (2-3, 0-2) saw their offensive ranks further depleted. Quarterback Brandon Dawkins took a big hit from linebacker Kenny Young in the second quarter and was replaced after halftime. Running back Nick Wilson came up limping late in the first quarter.
Right tackle Gerhard de Beer and right tackle Jacob Alsadek also suffered undisclosed injuries, while left guard Freddie Tagaloa did not travel with the team.
Touted freshman Khalil Tate came in at quarterback on Arizona's second possession of the second half, leading a drive that ended in a Josh Pollack field goal. Tate's next drive ended with a 31-yard touchdown to Shun Brown. Tate had 72 yards passing and 79 yards rushing in his college debut, throwing a second touchdown to Cam Denson with 38 seconds remaining.
FRESHMAN FINDS
Tate and UCLA wide receiver Theo Howard were among the most accomplished and sought-after high school players in Southern California last year. Those talents were on full display in the Rose Bowl.
Howard caught his first career touchdown early in the third quarter, providing the spark Mora was looking for with a 19-yard catch-and-run where he shook an Arizona defensive back and sprinted up the far sideline. With dropped passes a lingering issue for the UCLA offense, how quickly Howard can become a consistent part of the rotation could determine the ceiling for what Rosen can accomplish this season.
At the start of the season, Tate was expected to redshirt as the fourth-string quarterback seeing only a handful of snaps in practice. With Anu Solomon missing the last four games with a knee injury, those reps increased and coaches told Tate to prepare for the exact situation that unfolded against UCLA.
"Thought he would give us the best chance to score points," Arizona coach Rich Rodriguez said, explaining his decision to play Tate.
THE TAKEAWAY
Arizona: The decision to play Tate could effectively put the Wildcats into rebuilding mode this season. Despite his declaration, Rodriguez would not have put Tate in there simply as a stopgap measure. Rodriguez apparently decided that Tate's development now takes precedence.
UCLA: After last week's last-second loss to Stanford, the Bruins got everything they needed to remain in the Pac-12 South race. Utah lost at California and Arizona State was pummeled at Southern California, leaving surprising Colorado as the only team in the division unbeaten in conference play. However, UCLA needs improvement from its inconsistent offense to push for the Pac-12 title.
UP NEXT
Arizona: The Wildcats travel to Utah next Saturday. Arizona upset the No. 10 Utes 37-30 in double overtime last season, giving Rodriguez a win over a top 10 team in each of his first four seasons in the desert.
UCLA: The Bruins travel to Arizona State next Saturday for their first conference road game. The visiting team has won the last four games in the series.