Rose swings, misses on Ichiro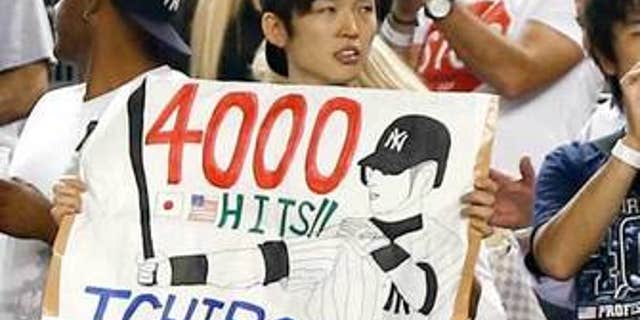 NEWYou can now listen to Fox News articles!
If there's anything we've learned recently, it's that baseball benchmarks are subject to interpretation.
Barry Bonds has the all-time home-run record . . . but Henry Aaron is the true home-run king because of strong evidence that Bonds used performance-enhancing drugs. The single-season standard belongs to Roger Maris -- who technically ranks seventh -- for the same reason.
This week, we're talking about hits. Pete Rose holds the Major League Baseball record with 4,256 -- even as he serves a lifetime ban for betting on the game -- and asserted to USA Today this week that Ichiro Suzuki's hits in Japan should not count in the Hit King tally.
"Hey, if we're counting professional hits, then add on my 427 career hits in the minors," Rose told Bob Nightengale. "I was a professional then, too."
On the occasion this week of Ichiro's 4,000th hit, between Nippon Professional Baseball and Major League Baseball, Rose also said: "When you compare yourself to me, Ty Cobb, Tris Speaker and Nap Lajoie, we all did it in the States."
Rose is wrong -- if not entirely with his facts, then certainly in his attitude. Much has changed during the near-quarter century in which Rose has been banned from MLB. One major development has been the respect earned by other baseball-playing countries, especially Japan.
Yes, Rose has (and will keep, for the foreseeable future) the MLB hits record. But Rose wasn't completely accurate when he spoke of Ichiro having 4,000 "professional" hits. Ichiro has 4,000 major league hits -- lower-case m , lower-case l . Nippon Professional Baseball -- Japan's highest domestic league, where Ichiro spent nine seasons with the Orix Blue Wave -- is considered a major league, too. Thus Ichiro is a legitimate challenger to Rose for the title of Global Hit King, a distinction that wouldn't have existed during Rose's time in the game but is relevant today.
Does NPB have as much talent as MLB? No. But the gap is closer than many American fans might imagine -- more NBA/ABA or NFL/USFL than that of a far superior sports entity and its subsidiary. When Rose says we all did it in the States , he's espousing a jingoistic -- and outdated -- belief about our national pastime: Unless it happened here, it doesn't really count.
Wrong.
Rose suggested to USA Today that baseball fans recognize Aaron's 755 home runs more than Sadaharu Oh's 868 with the Yomiuri Giants. That is true, at least in this hemisphere. But Oh retired in 1980, when the Japanese professional league wasn't as strong as it is today.
We can argue about the true meaning of the World Baseball Classic, but the fact remains that Japan has been the most dominant nation across the three tournaments. Team Japan won in 2006 and 2009 and reached the semifinals in 2013, with rosters comprised almost entirely of NPB players.
Although elite players from outside the United States usually find their way to MLB, various market inefficiencies result in highly competitive domestic leagues elsewhere. Japanese players can't come to MLB unless they accrue the necessary service time or their clubs accept posting bids. National military service regulations keep many Korean baseball players from coming to MLB; both Korean-born players in MLB today -- Reds outfielder Shin-Soo Choo and Dodgers lefty Hyun-Jin Ryu -- are stars.
And how strong would Cuba's domestic league be if Yasiel Puig, Yoenis Cespedes, Aroldis Chapman and others still played there?
Rose said Ichiro belongs in the Hall of Fame. I agree. But the greater show of respect would be if Rose acknowledged the strength of the competition Ichiro faced in NPB -- and the abundance of talent that remains there today. American baseball fans who say the world's best players are here already likely would have made the same argument five years ago -- before Yu Darvish, Ryu, Puig, Cespedes and Chapman arrived.
Perhaps the day will come -- 20, 30, or 40 years from now -- when US baseball fans recognize the merits of "major leagues" in faraway lands, the way soccer supporters do now. Already, though, the moment is long overdue for Rose to get current on a sport that has changed so marvelously in his absence.