Rose Namajunas looked like a woman at peace, and in charge at UFC Fight Night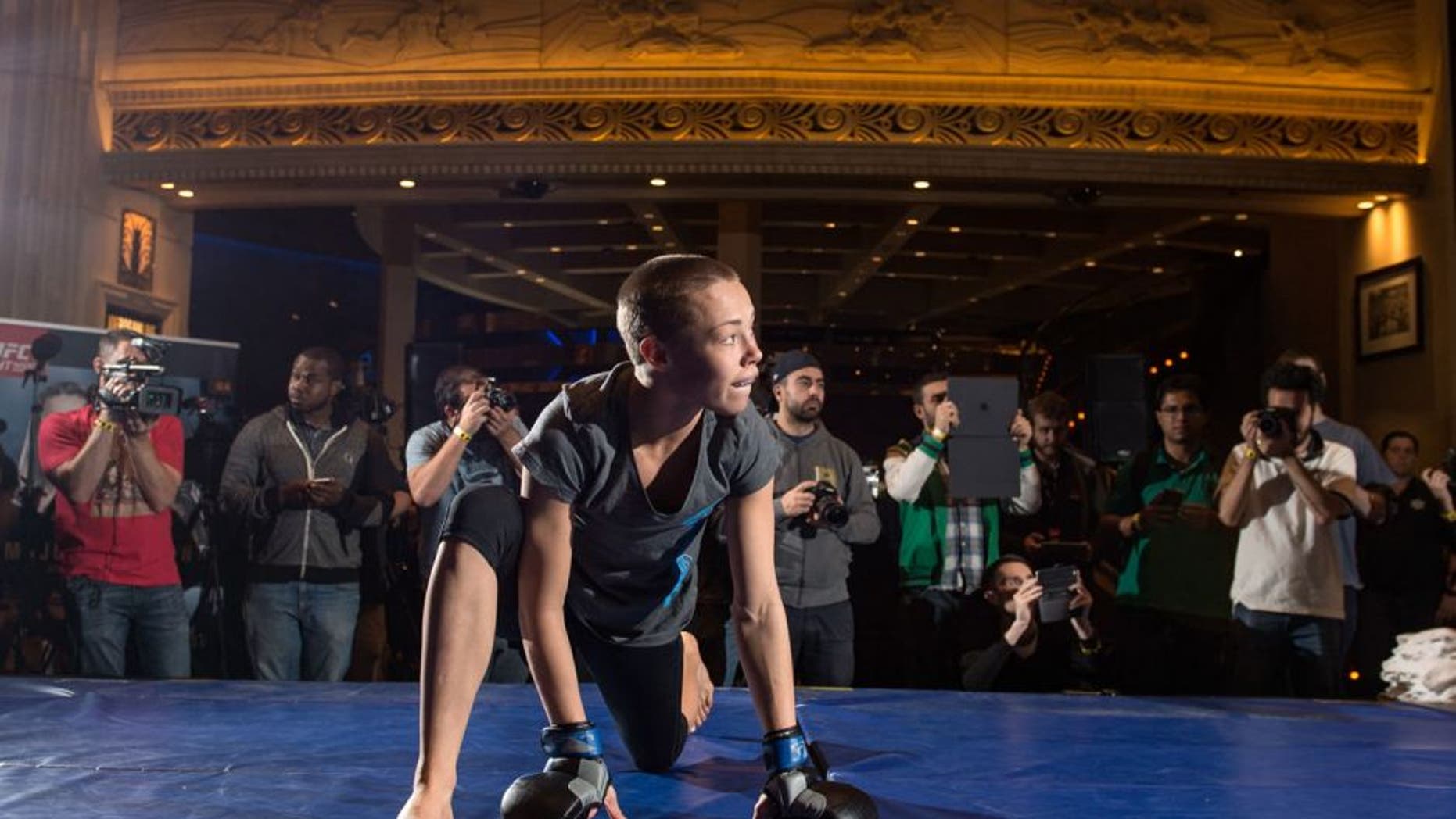 "If Rose comes in with her mind right, she can beat anybody in the world," Pat Barry told me Tuesday, after his partner Rose Namajunas completed her open workouts in the MGM Grand casino.
The former UFC heavyweight was jubilant all throughout the workout and afterwards, while telling me of the changes he, Rose, and the rest of her team had made since losing a strawweight world title fight a year ago to Carla Esparza. While she ran through punch drills on the pads and flowed on the ground during workouts, Barry stood off-stage, shouting in wonderment and raising his arms up in the air.
The charismatic "Hype or Die" star is almost always colorful in public but he insisted at the time that he wasn't just putting on a show to make Rose seem more impressive to the crowd. "Man, I've got goosebumps. Do you see that?" he said, pointing to his arm, which did indeed literally have hairs standing up.
"Don't you get excited watching her work like that? She looks amazing, right now."
She did. And, she did once more Thursday night when it really mattered.
For five-straight rounds, Namajunas completely dominated Paige VanZant in the UFC Fight Night main event inside the Cosmopolitan hotel. She out-struck Paige on the feet, with punches that she's learned to sit-down on her punches, landed takedowns at will, and chained together tight submission attempts on the ground.
Paige's ungodly toughness was likely the only thing that allowed her to last until the fifth round, as she stumbled on after absorbing huge blows to the head, was cut open on her face and escaped tight straight arm bars. Rose stayed steady with her attack, patient, present, and eventually did finish with a rear naked choke.
It could be argued that every single round could have been scored 10-8 for Rose. She was that good, all fight long.
She's now won two-straight fights, since losing her title bout, and let the world know that she still deserves to be in contention for the 115 pound belt. Namajunas used to look heavy and weary beyond her size and years, as she carried pressure of having to maintain her ThugRose image.
In July, Barry said that she'd shed that weight, mentally. Now, it was just about training hard, and showing up, with a clearer mind.
If she could do that, Barry said then, and then again two days ago, the 23 year-old would be capable of anything. Tonight, Rose didn't look angry, concerned, impatient or anything, really, other than present and engaged in each passing moment.
She also fought better than she'd ever had before. Perhaps there was a connection between the two.
Pat Barry called it. Namajunas looked comfortable in her skin all week long.
If she keeps that up, she'll continue to look like championship material on fight nights.