Rookie Rashad Greene making most of opportunity with Jaguars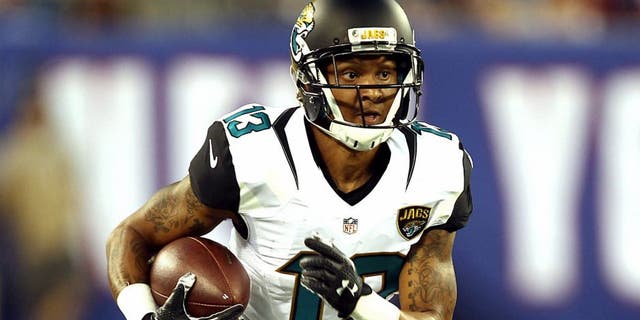 After a slow start to training camp, Jacksonville Jaguars rookie wide receiver Rashad Greene has come on of late, becoming the front-runner to win the team's vacant punt and kick return jobs, as well as filling in as the No. 3 receiver with Marqise Lee out the lineup.
Greene, a fifth-round pick pick out of Florida State, had two catches for 14 yards last week against the New York Giants. On special teams, he had one punt return for six yards and muffed another attempt which he recovered, but a week earlier against the Pittsburgh Steelers, he broke off a 37-yard return.
"He's making strides," Jacksonville wide receivers coach Jerry Sullivan said, per Ryan O'Halloran of the Florida-Times Union. "He has a lot of tools and we like what we see."
After sitting out three days of practice earlier in August due to Achilles tendonitis, Greene came back healthy and has taken advantage of the increased practice and playing time he's received with Lee sitting out due to a hamstring injury.
"The more reps I've got and the healthier I've got, I've been able to move around the way I want to," Greene said. "I continue to study and learn from the guys who have been here. I think I'm a pretty good learner and pretty fast learner so when I got a hang for everything, I was able to get right in and compete."
After failing to stand out in the early part of camp, Greene has made a positive impression on his coaches, both for his ability and his aptitude.
"It took him some time to get comfortable," Sullivan said. "But I've gained respect for him because he hasn't said a whole lot, but has learned and is getting better as he goes, which is right up my alley."
If Lee isn't ready to play by the Sept. 13 season-opener against the Carolina Panthers, Greene may well see time in the Jaguars' three-receiver formations.
"He's a guy that's really versatile, explosive and can make plays," Jaguars quarterback Blake Bortles said. "Attacking and getting the first down, I think that's kind of his game."
As for his role on special teams, as O'Halloran notes, Greene appears to be the favorite for both return roles over veterans Bryan Walters and Tandon Doss.
"That's something I've always felt like I was natural at doing," Greene said. "It's another opportunity to get on the field and compete."
(h/t Florida Times-Union)