Rookie Justin Nicolino credits preparation for progress with Marlins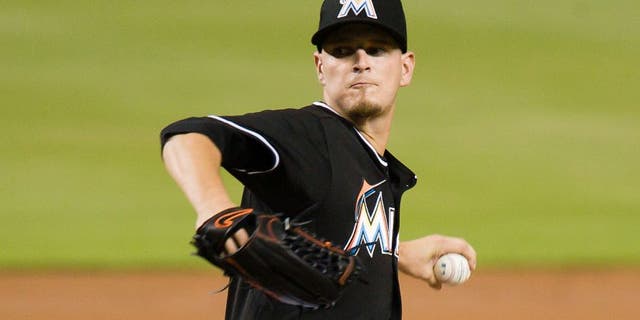 MIAMI -- After throwing his seventh scoreless inning, the Miami Marlins coaching staff told left-hander Justin Nicolino to grab a bat. At 86 pitches, Nicolino had earned another frame to add onto his gem with the bottom of the Philadelphia Phillies order up.
Nicolino recorded two quick outs before a familiar foe in the minors -- Darnell Sweeney -- blasted a first-pitch, pinch-hit solo home run for the first of his career. Nicolino exited when the next batter -- Cesar Hernandez -- found the hole at short for a single.
"I've been facing him all year down in Triple-A and it's been hit-or-miss either getting him out or he's getting a hit," Nicolino said. "Put a good swing on it and made a bad pitch. He's coming in pinch-hitting, (so) he's going to ambush. He's looking for something good over the plate and he executed that."
The 23-year-old rookie took a no decision after Bryan Morris allowed the inherited runner to score from first on Andres Blanco's two-strike double to left. Miami would go onto lose, 4-2, as the Phillies homered twice off righty AJ Ramos in the ninth on Saturday night.
Nicolino's performance served as the silver lining as he threw a season-high 101 pitches (72 strikes). Until Sweeney's homer, baserunners reached second just twice against him. On the first occasion, Blanco was thrown out trying to stretch a hit into a triple in the first.
All eight leadoff batters failed to get on base. Nicolino struck out a career-high four batters -- three on his cutter, the other on his changeup -- and scattered five hits and one walk. His pitch count never surpassed 17 in a frame.
"That was the biggest thing getting the leadoff hitter every inning to give myself a chance and letting the defense work," said Nicolino, whose fastball flirts in the high 80s and low 90s. "We did that tonight. We executed both sides of the plate with the fastball. Cutter was working a lot better, probably the best it's been all year. We didn't use the changeup until the fourth, so for me being that my pitch it was good to see. Other than that it was just a good work day."
As one of the organization's top prospects, Nicolino has shown flashes -- in a small sample size -- of his potential.
In five major-league starts, Nicolino has a 2-1 record and 3.77 ERA. He has pitched into the seventh inning in three of them, including each of the past two. Earlier this week, Nicolino went 6 2/3 innings, allowing two runs on six hits with three strikeouts and two walks in Milwaukee. He credits his preparation in between outings for executing the gameplan.
"I thought he pitched absolutely outstanding," manager Dan Jennings said. "Great job using his cutter, his changeup. Filled up the strike zone, controlled the bat speed. Retired every leadoff hitter of the eight innings that he was out there.
"He's always been a guy who was a strike thrower. (He) utilizes his pitches, tremendous chanegup and again I think you saw the real Nico tonight. (He's) a guy who can control bat speed and fill up the strike zone in that way. Just a hell of an outing. He got to that 100-pitch mark there, and we're trying to be smart with how we utilize these guys. We wanted him to get through that inning and he gets the two outs good and then the pinch-hit home run and the basehit. There's no way we wanted to put him in a situation to lose that ballgame."
You can follow Christina De Nicola on Twitter @CDeNicola13 or email her at cdenicola13@gmail.com.