Rookie Godley pitches Diamondbacks to 8-3 win over Brewers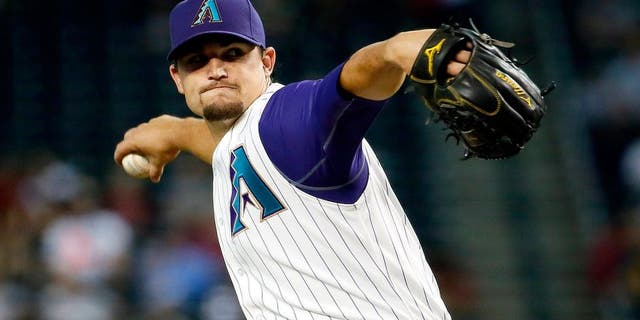 NEWYou can now listen to Fox News articles!
PHOENIX
Zack Godley's pitches were so effective in his first major league outing, even the home plate umpire was impressed.
Godley, a 25-year-old right-hander called up from Double-A before Thursday's game, struck out seven in six shutout innings in his debut, leading the Arizona Diamondbacks to an 8-3 victory over the Milwaukee Brewers on Thursday night.
"The umpire, Brian O'Nora, came over and said, 'This guy has got really good stuff,' and that showed," Diamondbacks manager Chip Hale said. "I love the intensity. That's one of the things we liked about him. He fit right in and didn't seem to be bothered by anything."
Godley held the Brewers to four hits, sprinting off the mound to the dugout after each inning. He got run support from 13 Diamondbacks hits, including three from A.J Pollock, who drove in two runs.
"I was locating my pitches pretty well, all of them," Godley said.
Godley tied a club record for strikeouts in his first major league appearance, matching Max Scherzer's total in a relief outing in 2008. He became the first pitcher in the modern era (since 1900) to throw at least six scoreless innings with no walks and seven or more strikeouts in his major league debut, in information provided by the Elias Sports Bureau.
"We knew that the cutter was his pitch and saw a little video on him, but he did a nice job," Brewers manager Craig Counsell said. "He got Braun and (Adam) Lind a couple of times. That's not easy to do."
The Diamondbacks had lost eight of nine games entering Thursday.
Yasmany Tomas gave them an early lead with a solo home run in the second inning. The Brewers failed to score in the third after putting runners on first and third with no outs.
Gerardo Parra grounded back to Godley, who threw to second base for a forceout. Diamondbacks shortstop Nick Ahmed then threw home, and Arizona got a double play when Oscar Hernandez tagged the Brewers' Hernan Perez at the plate.
The play turned out to be a big one for Godley, who was in control afterward.
"Just trying to get a groundball, no matter what it was," Godley said. "I had the opportunity to check the guy at third. Threw to Nick at second, and he did the rest."
The Diamondbacks got some help from Brewers center fielder Carlos Gomez in scoring three runs in the fourth inning. After Hernandez drove in Tomas for his first major league RBI, Ender Inciarte lined a two-out single to center. Gomez threw wildly to third to try to get Hernandez, and both Aaron Hill and Hernandez scored on Gomez's second error of the game.
Mike Fiers (5-8) took the loss despite striking out 10 in five innings. Fiers allowed four earned runs and walked two.
Ryan Braun's three-run homer in the ninth inning accounted for the Brewers' output. Braun has 17 home runs and 60 RBIs this season.
Godley, whose parents, fiancee and high school coach were in attendance, was given the lineup card, some tickets and the ball from his first career strikeout -- on Braun in the first inning -- as mementos.
HAPPY RETURNS
Counsell, hired in May, returned to Chase Field for the first time as a manager after playing for the Diamondbacks from 2000-03 and 2005-06. He won a World Series with Arizona in 2001.
"Every time you walk on this field, the first thing you think about is Game 7 of the (2001) World Series," Counsell said. "I spent five years playing here. It was five years when I was actually a decent player, so it's good memories."
The crowd cheered Counsell when he was shown on the video board before the second inning, and Counsell waved in acknowledgment.
Parra, who played for Arizona from 2009-2014 when he was traded to Milwaukee, was welcomed back on the big screen before the bottom of the second, and doffed his cap to applause.
QUICK CHANGE
Perez, who started at third for the Brewers on Thursday after Aramis Ramirez was dealt to Pittsburgh before the game, began the game wearing a blue jersey bearing the word "Brewers." It's the team's home blue top.
Perez apparently realized the gaffe and later had on the proper gear, the same color blue with the word "Milwaukee."
TRAINER'S ROOM
Brewers: Starting pitcher Wily Peralta (strained left oblique) is with the Brewers after two rehab starts in the minors. He has yet to be activated from the 15-day DL.
Diamondbacks: OF David Peralta, hit by a pitch in the shoulder then head by Jose Fernandez of Miami on Wednesday, passed all concussion tests but didn't play Thursday. He wasn't going to be in the lineup anyway, Hale said. ... C Welington Castillo remained out with a hamstring injury for the second straight game.
UP NEXT
Brewers: RHP Jimmy Nelson is scheduled for his 20th start of the season and second against Arizona on Friday. Nelson (7-9) is 4-1 with a 3.09 ERA in his past five starts.
Diamondbacks: RHP Patrick Corbin looks to snap a two-start losing streak on Friday. Corbin (1-2, 4.80) missed all of the 2014 season and part of this season after left elbow surgery.