Ronda Rousey's mother explains her hatred for the fighter's coach: He disrespects women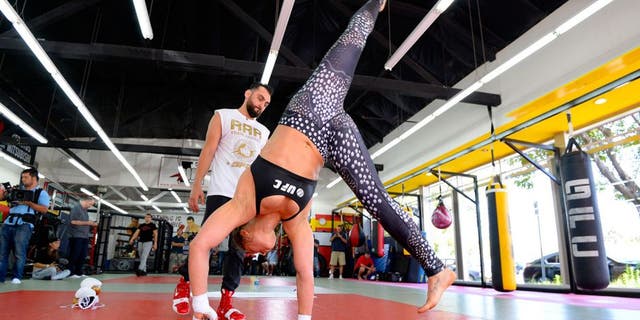 NEWYou can now listen to Fox News articles!
If fans expected UFC bantamweight champion Ronda Rousey's judo world champion mother, AnnMaria De Mars to walk back recently released video interview comments of her bashing her daughter's head coach, Edmond Tarverdyan, they got a shock as she appeared to double-down on them, and elaborate. In a preview clip of a full interview Dr. De Mars recently gave, she called Tarverdyan a "terrible coach."
Once the full interview with LatiNation was released (above), it turned out that the bulk of the conversation had to do with much more positive topics, like the educational software start-up that Dr. De Mars is developing, her own judo career, and how much she thinks of all of her daughters, including the UFC champion one named Ronda.
The full interview also included expanded shots taken at Tarverdyan, including De Mars saying, ""I hate him. I would run over him with my car in there wasn't a law against it."
The educator and former judo champ explained a bit more about why she can't stand Rousey's coach, in a follow-up interview with fellow judoka Rhadi Ferguson (below). "Because [Tarverdyan] is extremely disrespectful to women," she claimed.
"If you read in Ronda's book, you know when she walked into his gym she had been a Junior World gold medalist, Olympic medalist, World medalist in judo and [Tarverdyan] didn't give her the time of day. And he has had that exact same pattern with many women in the gym and I have seen it with my own eyes where they train there and it's basically a waste of their time. And they're talked to in a way that just makes my jaw drop."
This coming out in the open is likely a particularly bad time for Rousey, as she is set to defend her title in about a month, against Holly Holm. Evidently De Mars has made her feelings known to Rousey and her coach quite clear in the past, but decided now that she would no longer keep them away from the public.
"[Ronda and I] talked about it before and she said, 'Oh I've got a fight coming up.' You only get that pass from me once. Whatever she wants to do in her career, that's her business, but if you're in a situation where you're really causing harm to other people by being used as bait to lure people in there, I think somebody needs to speak up," she concluded.
"And all I did was say publicly what people have been whispering for years, but no one had the balls to speak up because Edmond is like that gatekeeper to Ronda."