Ronda Rousey will likely receive immediate rematch with Holly Holm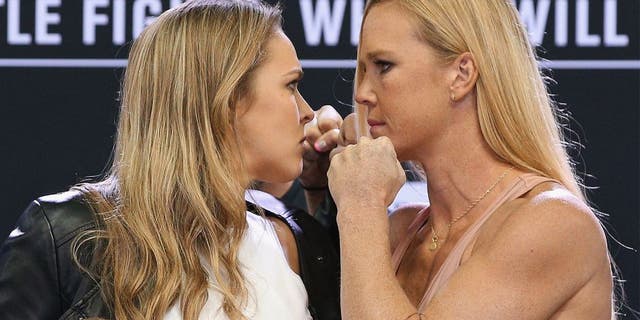 MELBOURNE, AUSTRALIA - SEPTEMBER 16: UFC Women's Bantamweight Champion Ronda Rousey (L) faces off against Holly Holm during the UFC 193 media event at Etihad Stadium on September 16, 2015 in Melbourne, Australia. (Photo by Michael Dodge/Zuffa LLC/Zuffa LLC via Getty Images) Michael Dodge/Zuffa LLC
Holly Holm shocked the world with her second round knockout over Ronda Rousey at UFC 193, but it looks like the now former champion will get a chance to redeemer herself in an immediate rematch.
Following the close of the record-setting event in Melbourne, Australia, UFC president Dana White stated that while he's not going to say anything is certain just minutes after the fight ended, it's likely that Holm and Rousey will fight again in the near future.
"Obviously, we don't make fights the night of the fight, but the rematch makes a lot of sense," White said at the UFC 193 post fight press conference. "I think the rematch is what people would want to see. I mean it changes a lot of things now. The (Cris) 'Cyborg' fight, some other stuff we were working on."
Rousey lost for the first time in her professional MMA career in only the second fight she's ever had go out of the first round.
Following the fight, Rousey left the Octagon and was taken to a local hospital for treatment after her lip was split during the fight as well as precautionary reasons for the knockout. White spoke to her before she left the arena and he conveyed that Rousey was definitely upset about the defeat.
"Obviously, she's completely bummed out and depressed," White said. "But that's it."
As much as Holm deserves to celebrate her win in one of the biggest upsets in UFC history, she knew the moment the fight ended that she hadn't seen the last of Rousey during her career.
Winning the belt was a special moment, but to truly feel like a champion Holm knew all along she would have to defend it and probably face Rousey again before her claim was completely legitimized.
"I think a rematch makes sense for sure," Holm said. "I've been on the losing side of a fight and I wanted the rematch, I wanted to avenge my loss. With a champion like Ronda, who has gone out of her way, above and beyond, to do great things, absolutely she deserves a rematch.
"I don't look at this belt and think that I've made it. I think I still have things that I need to do. I think a rematch, that's kind of unspoken just common sense to me I guess."
Rousey stated in the lead up to the fight that she planned on taking some serious time off following three title bouts in the past nine months. She has a movie starring alongside Mark Wahlberg called 'Mile 22' that is expected to film during the first quarter of 2016.
Given the timeline for filming, Rousey would most likely be ready to return somewhere around the date for UFC 200 in July 2016, but as of now nothing has been confirmed.