Ronda Rousey will be out for revenge when she returns to the UFC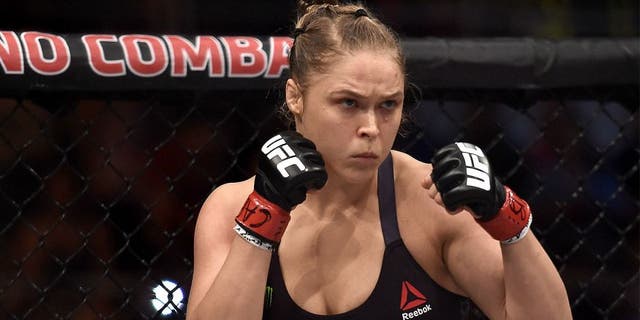 NEWYou can now listen to Fox News articles!
Ronda Rousey has been rather quiet regarding her future in fighting ever since suffering a brutal knockout loss to Holly Holm last November, but it appears the former women's champion is on mission to reclaim the belt.
Rousey recently participated in a conference with host Robin Roberts at which she was asked point blank what she hasn't done that she wants to do.
Without blinking, Rousey fired back a salvo aimed at the women's bantamweight division.
I want to win my belt back. -- Ronda Rousey
Rousey hasn't made any public statements about her timeline to return to the sport, but it certainly sounds like she has every intention of going after the belt when she does come back.
UFC president Dana White has extended an open invitation to Rousey to face women's bantamweight champion Amanda Nunes when she's ready to return, but there's still no definitive date when that might happen.
One thing is for sure: Rousey's light may have dimmed after the loss to Holm, but the fire was far from extinguished.
In fact, Rousey turned to a phrase her mother taught her as an aspiring judoka growing up that she'll use as inspiration when stalking the new champion upon her return.
"Ear muffs for all the little kids. They told me not to swear. But here is my mom's favorite momism," Rousey explained.
"This is the advice her coach gave her. I was a little pre-teen when she gave this to me cause I went to the Junior Nationals and I lost my first Junior Nationals. I ended up fighting (the same girl) again later, and my mom she like pulled me aside to the mat and she's like I'm going to tell you what my coach told me when she lost the French Open and ended up winning the World Championships later. I'm going to tell you what he told me -- 'Winning's a (expletive) but revenge is a mother (expletive)'. You go get her!"
It sounds like Rousey is very motivated to not only fight again but that she wants the belt back that she defended six times before falling to Holm last November. Since Rousey lost the title, no fighter has defended the belt even once with the gold bouncing from Holm to Miesha Tate and now Nunes as champion.