Ronda Rousey wants to be the next great Hollywood action star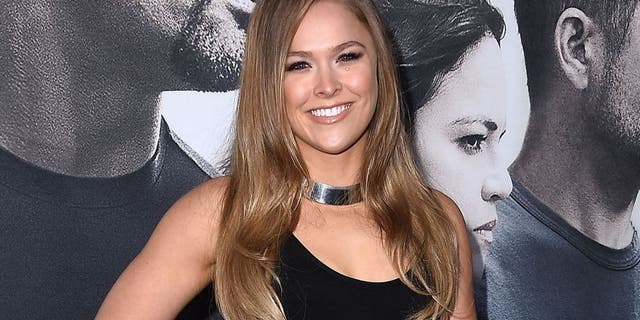 NEWYou can now listen to Fox News articles!
When she's not dispatching opponents in record time in the Octagon, UFC women's bantamweight champion Ronda Rousey is quietly amassing an impressive resume in her secondary career as a budding actress in Hollywood.
Starting with a starring role in the film "The Expendables 3", Rousey quickly adapted her physical fight style to become an action movie actress and subsequently landed two more roles in "Furious 7" and the "Entourage" movie.
Rousey is arguably already the biggest star on the UFC roster, and she's now been a part of a billion-dollar film franchise with her appearance in the latest "The Fast and the Furious" sequel.
Next up for Rousey is a starring role alongside Academy Award nominee Mark Wahlberg on the film "Mile 22", with filming expected to start in early 2016.
Rousey's goal to retire undefeated from her fight career is still the same, but she's not opposed to building the next phase of her life, which it seems could be a thriving job as the next great female action star in Hollywood.
"There are things I want to do that have never been done before," Rousey said about her acting career. "I want to be the first person to be able to do one long shot I want to be able to do -- I want to learn how to do car chases. I want to do car stunts. I want to do high falls. I want to do fights on my own.
"I want to be able to be the first person ever to be able to do a fight scene, a car chase and a high jump in one long shot with nobody -- no stunt double, nobody else doing it."
Through her first few movies, Rousey has co-starred with some of the biggest names in acting like Sylvester Stallone, Arnold Schwarzenegger, Vin Diesel and Wahlberg as well from their time on the set of "Entourage". She's learning from the best in the business, and Rousey hopes to follow in their footsteps as she builds her acting resume from the ground up.
Wahlberg is a particularly strong role model, according to Rousey, because he's been able to reach superstardom with his film career but still stay very grounded in his day-to-day life. It's something she hopes to replicate as she transitions from Olympian to UFC champion to actor while never losing sight of how hard she worked to get here in the first place.
"He's absolutely amazing, such a cool guy," Rousey said about Wahlberg. "It's really nice to be able to meet people that have been able to sustain a public lifestyle and still stay really normal and cool and grounded good people. And he's an amazing example for me. And I'm not just excited to create something with him.
"But I'm really excited to learn from him and really be able to handle this kind of lifestyle with some of the grace and poise that he has."
Rousey has already set the standard for women's mixed martial arts with her lopsided performances that often times don't last longer than what it takes to tie a pair of shoes -- all while rocketing to the top of the sports stratosphere where she's defined as the most dominant athlete in the world.
But Rousey isn't satisfied with just being the best fighter on the planet. She may not tackle Jennifer Lawrence or Scarlett Johansson just yet, but Rousey has plans to make her name in Hollywood and do a few things that have never been done before.
"There's some little thing, little pieces of history that I think are yet to be made in Hollywood," Rousey said, "I can do it."
Don't miss a minute of Rousey's fight on Saturday night with our UFC 190: Rousey vs. Correia viewing and schedule guide.