Ronda Rousey vs. Holly Holm headlines UFC 195 on Jan. 2 in Las Vegas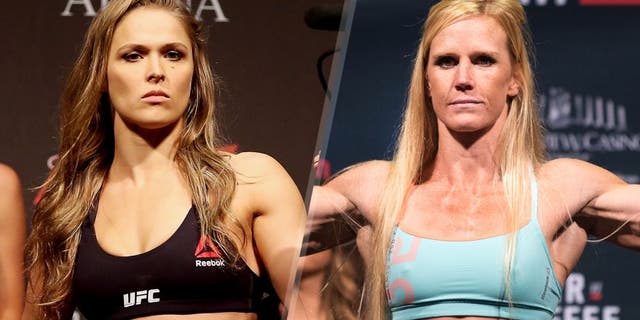 UFC women's bantamweight champion Ronda Rousey has officially booked her next fight for Jan. 2 against former boxing champion Holly Holm in UFC 195 at the MGM Grand Garden Arena in Las Vegas.
Rousey made the announcement on 'Good Morning America' on Friday morning.
"January 2 I'm going to be fighting Holly Holm, who is actually the most decorated striker we have in all of mixed martial arts," Rousey said. "Not the women's division, not the bantamweight division, like 19-time boxing world champion Holly Holm, was the Ring Magazine pound-for-pound female fighter of the year and definitely my biggest challenge to date so I'm super-excited about it."
The fight announcement comes as a surprise to many after it was expected that Rousey would face former foe Miesha Tate for her next title bout. Tate recently defeated Jessica Eye to win her fourth fight in a row, and UFC president Dana White declared her the new No. 1 contender following the victory.
Tate has fallen to Rousey on two previous occasions so those losses likely played a big part in the UFC opting to go another direction for the next contender in the women's bantamweight division.
Holm earns a shot at the title in only her third fight with the promotion after defeating Raquel Pennington in her debut earlier this year and topping Marion Reneau by unanimous decision in July.
Holm is a decorated former boxing champion who transitioned to MMA full time just recently under the guidance of coaches Greg Jackson and Mike Winkeljohn. Holm is 9-0 in her MMA career.
Rousey says despite the fact that she's rolled through her last four opponents in just 130 seconds, she expects Holm to give her an extremely hard time while being prepared to go for five rounds if that's what it takes.
"I prepare for a five-round war every time I get in there," Rousey said. "No one's easy until after you beat them. With Holly Holm, she's the type that is ready to go 12 boxing rounds. She is not the average chick I would fight. She's the best striker I've ever fought and striking is something I learned much later in my career and so I don't ever expect fights to be easy and fast."
Rousey vs. Holm will headline UFC 195, with more fights to be announced.