Ronda Rousey transported to the hospital following KO loss at UFC 193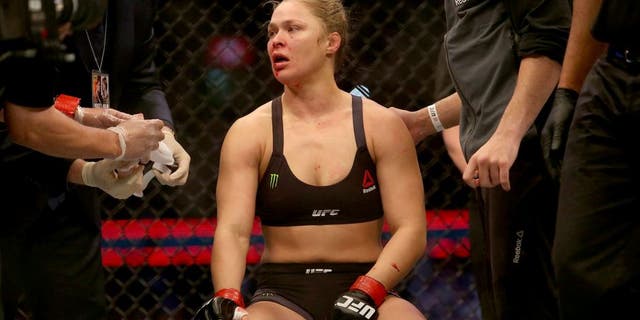 MELBOURNE, AUSTRALIA - NOVEMBER 15: Ronda Rousey of the United States receives medical treatment after being defeated by Holly Holm of the United States in their UFC women's bantamweight championship bout during the UFC 193 event at Etihad Stadium on November 15, 2015 in Melbourne, Australia. (Photo by Pat Scala /Zuffa LLC/Zuffa LLC via Getty Images) Pat Scala /Zuffa LLC
Following a stunning second-round knockout loss to Holly Holm at UFC 193, former bantamweight champion Ronda Rousey has been transported to a local Melbourne hospital for treatment.
UFC president Dana White confirmed that Rousey was taken to the hospital for precautionary reasons because of the knockout but also because she suffered a split lip from the damage suffered in the fight.
Holm uncorked a hellish left high kick early in round two that sent the Olympic bronze medalist crashing to the canvas.
Rousey endured a rough first round as well as Holm popped her with several hard punches to the face that blooded her mouth and nose.
The head kick, which also connected on Rousey's neck, sent her careening to the ground as she bounced off the mat before Holm followed her down to finish the fight.
Rousey got off the canvas and sat on a stool with her coaches and medical personnel checking on her condition following the first knockout loss of her career.
Rousey skipped out on the post-fight press conference and her post-fight interview to get checked out by medical personnel before being transported to the hospital.