Ronda Rousey: 'Road House' filming pushed back until at least May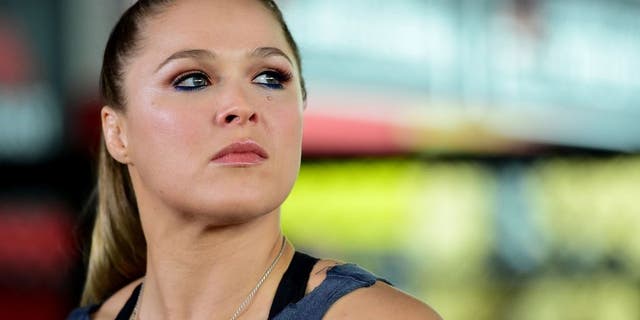 Ronda Rousey promises that she's returning to the Octagon to get a second shot at Holly Holm, but filming for her upcoming movie "Road House" has been back until at least May.
This is according to the former women's bantamweight champion, who revealed the news late Tuesday night when asked about earning a second shot at Holm, who knocked Rousey out last November at UFC 193.
"Hopefully we'll start around May. We'll see," Rousey told Jimmy Fallon on "The Tonight Show".
Rousey committed to doing the "Road House" remake weeks before she actually stepped into the Octagon with Holm. At the time, Rousey obviously believed she would be victorious and then she could take a break from fighting to film the movie.
"Road House" is being written and directed by Nick Cassavettes ("The Notebook"), but rumors have surfaced over the last few months that there would be a significant delay to the movie's production dates, which were originally slated for February.
Rousey told UFC president Dana White that because her acting schedule was getting pushed back, she wouldn't be able to fight at UFC 200 in July, which was the original plan for her rematch with Holm.
"I promised that I would film "Road House" after the last fight," Rousey said. "I made a promise and that's it. My word means something so I'm going to go film "Road House" first."
Rousey's film schedule has been getting busier and busier lately. In addition to "Road House," she has a planned project with Mark Wahlberg titled "Mile 22." She also signed onto a comedy film alongside Tina Fey called "Do Nothing B--ches," based on her own signature catchphrase that she unleashed ahead of her fight with Bethe Correia at UFC 190 last year.
Still despite a packed 2016 with at least two movies expected to film this year, Rousey is committed to returning to the cage to face Holm a second time.
"Of course (there will be a rematch)," Rousey said.
White has speculated that Rousey's return would likely happen in November but if her filming schedule continues to get pushed into the summer, it wouldn't leave her a lot of time to train for a fight in the fall.
Either way, it seems Rousey is committed to her film career for now and she'll resume her fight career when at least "Road House" is completed.