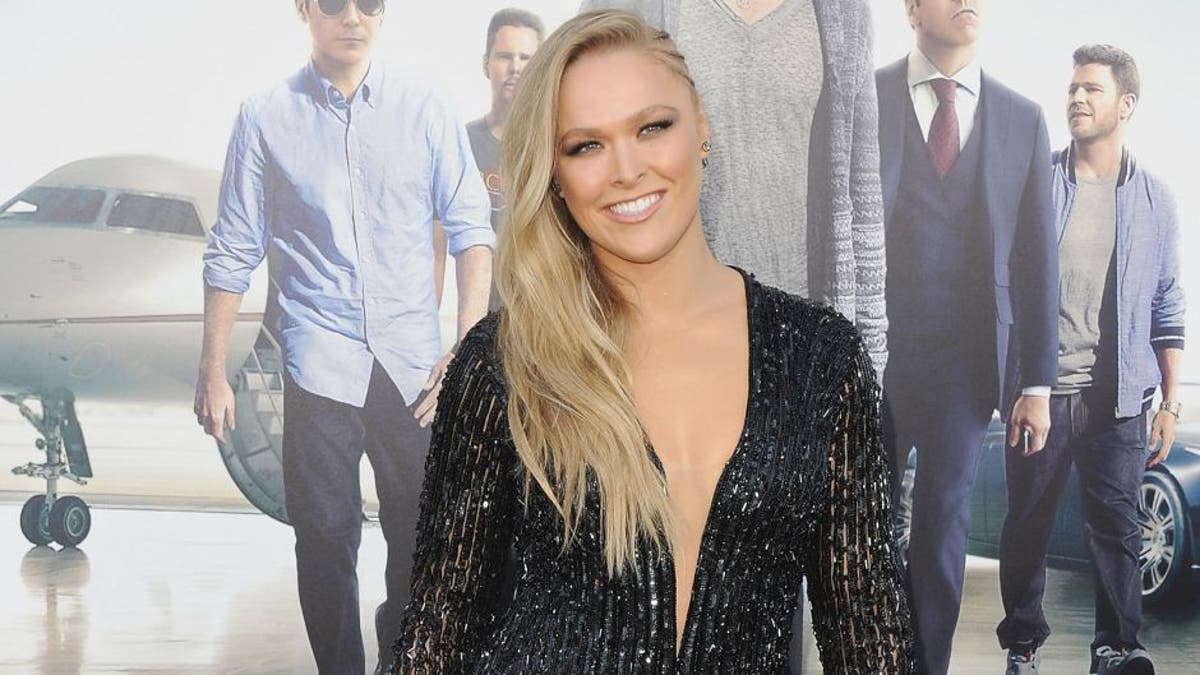 Former UFC women's bantamweight champion Ronda Rousey has reached a level of fame and success than possibly no other fighter in history has ever dealt with before.
She's starred in several blockbuster movies, including a small role in the billion-dollar "Fast and the Furious" franchise, and now she's even slated to become a Sports Illustrated cover girl in the new swimsuit edition.
But that magazine shoot also gave Rousey a clear indication that no matter what she does these days, people are willing to follow. She found that out the hard way when her photo shoot took place in the middle of the Caribbean islands and the paparazzi were right there with her to post pictures online almost immediately.
"So we went out to the middle of nowhere, we flew to Barbados, we took three planes and a boat to try and get to the most remote place in the world so we were at like Petit Saint Vincent in the Grenadines and some like paparazzi dude followed me out there," Rousey revealed on "The Ellen Show" this week. "I'm like, 'That's commitment, right?'
"I don't care if you're the most gorgeous person out there, if it's a hot day and you're naked and you're slouching, no girl wants a picture of that and that's what got out there first. I was like, 'Awesome.' If there was like X-ray vision of me through my gray sweats on my couch on a hot day, that's what that would look like."
Rousey's revealing shoot included her entire body being covered in paint without an actual swimsuit, so she was more or less completely exposed for several hours while doing the photos for the magazine.
Once the original photos leaked online with Rousey in her body paint, Sports Illustrated decided to do a second shoot to ensure that there would be some exclusivity to the issue when it finally landed on newsstands.
But yet again, Rousey found out that her fame will attract a lot of followers -- even those willing to go to the ends of the Earth to snap a few pictures of her wearing nothing but body paint.
"We were out in a sandbar in the middle of the ocean, like nobody's there and some dude followed all the way out there and was on an adjacent island in a bush shooting on a long lens," Rousey revealed.
At the time she was doing the second shoot, Rousey had no clue that anyone was hidden away taking pictures, but she found out the when the photos surfaced online the next day.
Unlike the finished Sports Illustrated shots in which only certain photos are selected while some potentially more graphic pictures are censored and/or edited, Rousey didn't get that benefit with the paparazzi photos. and needless to say, she was not happy.
"My agent called me up and is like 'Listen, I just need you to breathe, it got leaked a second time and I just need you to breathe,' " Rousey said. "I was like, 'Brad (Slater), when a picture gets out of you and it's all over the Internet, I'm going to tell you to breathe. Remind me to tell you to breathe with your (expletive) pic everywhere. When your children are like 'Daddy, what's this?' remind me to tell you to breathe.' "
As upset as Rousey was at the time, the payoff still came from the second photo shoot because those were the pictures that ultimately earned her the cover of the magazine.
"It ended up being awesome," Rousey said. "I have to thank them actually because we did a second shoot just because of them and it ended up being the cover."