Ronda Rousey not retiring, still plans for Holly Holm rematch in 2016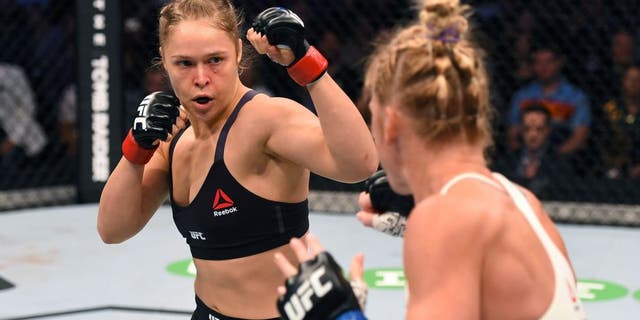 Ronda Rousey will not be fighting at UFC 200 and her movie schedule is filling up fast, but the former women's bantamweight champion promises she's still coming back to the UFC in 2016 to avenge her loss to Holly Holm.
TMZ caught up with Rousey as she prepared to fly home after supporting Travis Browne in his fight against Matt Mitrione on Sunday in Boston where she gave an update on her status.
"Sometime later in the year, they haven't told me an exact date or location yet," Rousey said about her return. "It's a decision we're all going to make together but I'm kind of waiting to hear from them what options they're going to give me."
Rousey told UFC president Dana White a week ago that she would need extra time off to finish filming for the upcoming "Road House" remake, which precipitated her removal from the UFC 200 card on July 9.
Rousey then booked another film gig in a new movie called "Do Nothing B---hes" alongside Tina Fey and it led to speculation that maybe the former champion wasn't that interested in returning to action after all.
Rousey squashed those rumors, stating once again that she's definitely planning a return to action and that a rematch with Holly Holm is all she wants.
"Of course, that's all I want to do," Rousey said about facing Holm a second time.
In Rousey's absence, the UFC booked Holm in another title defense against Miesha Tate on March 5 at UFC 197. It seems Rousey will return later in the year and face the winner of that match or possibly just set up a second fight with Holm regardless of the outcome.