Ronda Rousey: 'No better way to get motivated than if you're homeless'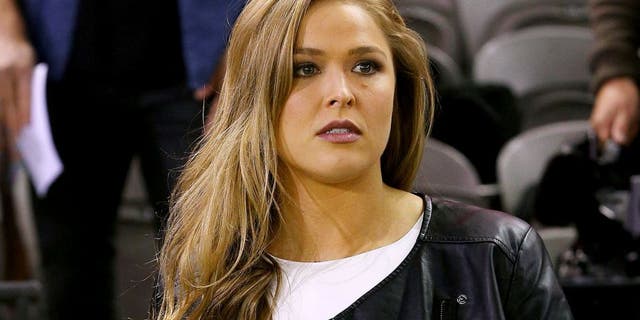 NEWYou can now listen to Fox News articles!
It's been well documented that before Ronda Rousey was the highest-paid fighter in the UFC, she was a struggling Olympic bronze medalist who actually ended up living in her car for a period of time.
Rousey talked about the situation in her autobiography "My Fight/Your Fight" when she came back from the 2008 Olympic games and lived in her 2005 Honda Accord while trying to maintain waitress jobs and working the front desk at 24-Hour Fitness.
On Wednesday while appearing on ESPN "SportsCenter", Rousey says the situation wasn't as horrible as everyone makes it out to be because she only lived in her car for a matter of days after an argument with her mother led to her Honda becoming home.
"After the Olympics, I came home and I was at my mom's while I was getting a job while I was looking for a place. I just got a job and me and my mom got into a big argument and so instead of going home, I stayed in my car until I found a place," Rousey explained.
"People kind of over play it up me living in my car. I was only really there for like a week or week and a half."
Regardless of the amount of time she was there, Rousey admits that there's never been a better motivator than going to sleep and waking up in the same car she would then drive to work.
Living there for only a week or so lit a fire under Rousey to work that much harder to get what she wanted and that flame hasn't been extinguished ever since.
"There's no better way to get motivated than if you're homeless," Rousey said. "If you're homeless and not hustling, you've got a problem because I was never more motivated to find a place than then."
Rousey obviously found a home a few days after moving into her car and the success she's found since then hasn't stopped. Rousey is now the biggest star in UFC history with her next fight in Australia expected to break the all-time attendance record for the promotion.
Rousey actually ended up selling the Honda on eBay with the final buyer plunking down over $21,000 to get the champ's former home/ride.
Rousey just recently bought a new house in California as well, but she still remembers the days when she lived in her Honda and had to make due with whatever she could afford.
"I understand 24-hour Fitness a lot more because if you just have a car and a gym membership, you can sleep in your car and shower somewhere else and it's actually a really functional way to live," Rousey said.
It wasn't the worst way to live, but chances are Rousey is never going back there again.