Ronda Rousey hopes upcoming roles will help her land 'Captain Marvel'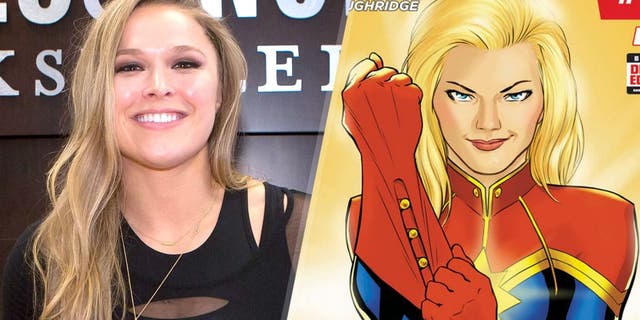 NEWYou can now listen to Fox News articles!
Ronda Rousey already has a full slate of film projects ahead for 2016 and she's hoping with a couple of leading roles under her belt, Marvel will take a real look at her for the lead in the upcoming "Captain Marvel" movie.
Rousey first mentioned the possibility of landing the role in a Reddit AMA earlier this year before the UFC bantamweight champion posted some fan made images of her dressed as the famous female heroine.
Now with her upcoming role in "Mile 22" alongside Mark Wahlberg and starring in the lead in the upcoming "Road House" remake, Rousey hopes her growing resume will actually land her on Marvel's radar for the film.
"I'm really looking forward to doing my first starring role opposite Mark Wahlberg," Rousey told ET recently ahead of shooting "Mile 22" in Indonesia in 2016.
"Hopefully, by the time 'Captain Marvel' comes around I will have enough experience and skills in the field for them to really, seriously consider me."
The good news for Rousey is time is on her side now more than ever.
Marvel recently announced a new "Ant-Man" sequel that pushed the release date of their planned "Captain Marvel" movie to March 8, 2019 after originally being slated to land in theaters in July 2018.
The extra time should allow Rousey to film two upcoming lead roles in 2016 while also plotting the course for the upcoming biopic that's based on her autobiography "My Fight/Your Fight" with the UFC champion playing herself in the movie.
Rousey's role in "Road House" will be her first full-fledged starring vehicle and just this week the movie landed veteran director Nick Cassavetes to helm the remake while also writing the script. Cassavetes is best known for his work on "The Notebook" as well as "John Q" starring Denzel Washington.
Rousey is excited to begin work on that movie as well, where she takes over for Patrick Swayze, who starred in the original 1989 cult classic about a bouncer sent to clean up a bar in a corrupted small Missouri town.
"I was pursuing 'Road House' for like two years I think. I don't think that any other man could ever be 'the Swayze'," Rousey said. "I think it's a wise angle to take to do a little gender flip."
Rousey is already on Marvel Studios president Kevin Feige's radar after her recent campaign to land the role and if "Mile 22" and "Road House" go as well as expected, the UFC champion could be the first woman in history to lead a Marvel film franchise.