Ronda Rousey 'do nothing b***h' shirts being sold for charity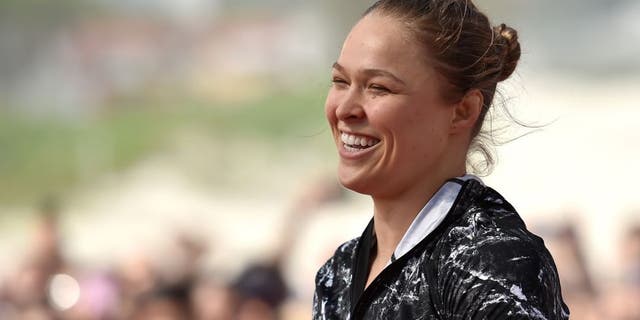 Throughout her mixed martial arts career, UFC women's bantamweight champion Ronda Rousey has talked numerous times about body image issues she's dealt with from the time she was barely a teenager all the way until now.
While she was in high school, Rousey would routinely wear baggier clothing after classmates shamed her for having muscular arms and shoulders. That stigma stuck around to her run as UFC champion because to this day Rousey doesn't flex when she poses at a weigh-in the day before a fight.
She typically puts her hands at her sides or behind her back because that ridicule stuck with the former Olympian so long that it's tough to let go.
Rousey has largely fought against the idea that a woman has to look a certain way whether that means fighter, model or just the average every day person walking down the street. For her 2015 Sports Illustrated photo shoot, Rousey purposefully kept her weight higher rather than slim down to look a certain way in a bikini.
"I purposely tried to get a little bit heavier for the SI issue so I was a little bit curvier and not in top fight shape look but the look at which I feel I'm the most attractive," Rousey said earlier this year. "It's very natural for a person's body to go through seasons
Just ahead of her fight against Bethe Correia at UFC 190, Rousey took her body image battle to another level while revealing the term 'do nothing b--ch' to the world. In Rousey's words, a 'do nothing b--ch' or DNB is someone "who just tries to be pretty and be taken care of by someone else".
Rousey refuses to allow anyone to label her body under any kind of terminology, especially when someone tries to say she's too masculine because she has broad shoulders and a lot of muscle tone.
"Listen, just because my body was developed for a purpose other than f---ing millionaires doesn't mean it's masculine," Rousey said. "I think it's femininely bad-ass as f--k because there's not a single muscle on my body that isn't for a purpose. Because, I'm not a do-nothing b--ch.
"It's not very eloquently said, but it's to the point. And, maybe that's just what I am. I'm not that eloquent, but I'm to the point."
Well now Rousey's name and description about the infamous 'do nothing b--ch' has become a t-shirt available for purchase online, but it's not just being sold to line the UFC champion's pockets with more money.
No it's actually for a good cause because part of the proceeds from the shirt will be donated to Didi Hirsch Mental Health Services for their work in mental health and for women with body image issues.
The new shirts from Represent.com run $24.00 and come in black, grey or white, but don't hesitate buying one because the Ronda Rousey 'don't be a DNB' shirt will only be around for two more weeks.