Ronda Rousey: Buy every single PPV because that might be my last one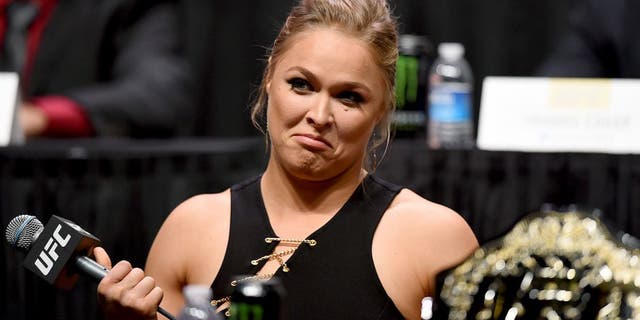 NEWYou can now listen to Fox News articles!
UFC women's bantamweight champion Ronda Rousey is no stranger to making the impossible seem possible.
Once upon a time, UFC president Dana White said women would never fight inside the Octagon, but once he got a look at Rousey his mind was changed forever.
Rousey not only became the first woman to join the UFC, but she was also the first to headline a pay-per-view, and with her last fight against Bethe Correia in August, she also put up some of the biggest numbers in the company's history.
So it shouldn't be a surprise that Rousey was the choice the UFC made to headline UFC 193 in Melbourne, Australia with a chance to break the all-time attendance record for one of their events. Etihad Stadium holds over 56,000 fans for rugby matches, but with even more seats added to the stadium floor, UFC 193 is expected to push the limits to over 70,000 fans in attendance.
Rousey seems more than game to add that record to her resume.
"Of course it's a lot of pressure, but you know what, I've been able to accomplish things that seemed impossible before and this doesn't seem like the most impossible endeavor I've gone after," Rousey said on Friday. "I think that we're entirely capable of doing that and I'm not done making history yet."
For the upcoming fight in Australia, Rousey will be joined by strawweight champion Joanna Jedrzejczyk, who will face Valerie Letourneau in the co-main event, which marks the first time both women's titles have ever been defended on the same UFC card.
Rousey is happy to see Jedrzejczyk join her in Australia and it's just another sign of the progress the women's division has made in the short time they've been in the UFC.
"I'm really encouraged by the progress we've seen. Dana went from saying that we'd never have women in the UFC, now he's entrusting us to break their gate record," Rousey said. "I really think that we're capable of doing it. I'm honored to be sharing a card with Joanna and 75,000? All right, let's do it."
Considering the kind of attention Rousey has been getting lately, there doesn't seem like much she can't do right now, and breaking the all-time UFC attendance record would be just another accolade to add onto her legacy.
Speaking of legacy, Rousey also addressed her fight future starting with UFC 193, where she will go for her seventh consecutive title defense, which puts her just three away from tying the all-time record held by Anderson Silva.
Rousey scoffed at the idea of breaking the record when she was first asked about it, but when she realized that a win over Holm would put her only a few fights away from Silva's record, it suddenly seemed attainable.
"I guess it's within striking distance. But let's get the gate first, the record gate, and then maybe later maybe I will want to fight that long," Rousey said.
While four more title defenses seems very much within striking distance, Rousey has spoken openly lately about her future in the sport and how long she has left in the fight game.
With a budding career in Hollywood with several movies already filmed, not to mention three separate starring roles already plotted for the next few years, Rousey has plenty to keep her busy away from MMA.
She said recently that retirement would likely happen at some point in her early 30s and since she turned 28 this year, that would but Rousey's time left in MMA hovering somewhere between two to four years.
Rousey promises she's sticking around longer than her next fight against Holm in November, but nothing is ever guaranteed so enjoy her performances while you can because she won't be around forever.
"I kind of reassess after every fight, but I think it's good for people to know that I'm not going to be around forever either. I'm going to beat Holly and I'm going to reassess. I'm not retiring after Holly, it's not going to be that soon, but I'm getting up there," Rousey said.
"I haven't just been doing MMA the last five years. I've been fighting since I was 11. There's going to be a point where I'm ready to move on with my life and I'd rather plan for it instead of fall into it like I did after the Olympics. You better buy every, single pay-per-view because that might be my last one."