Ronda Rousey blasts Nevada Commission over Nick Diaz suspension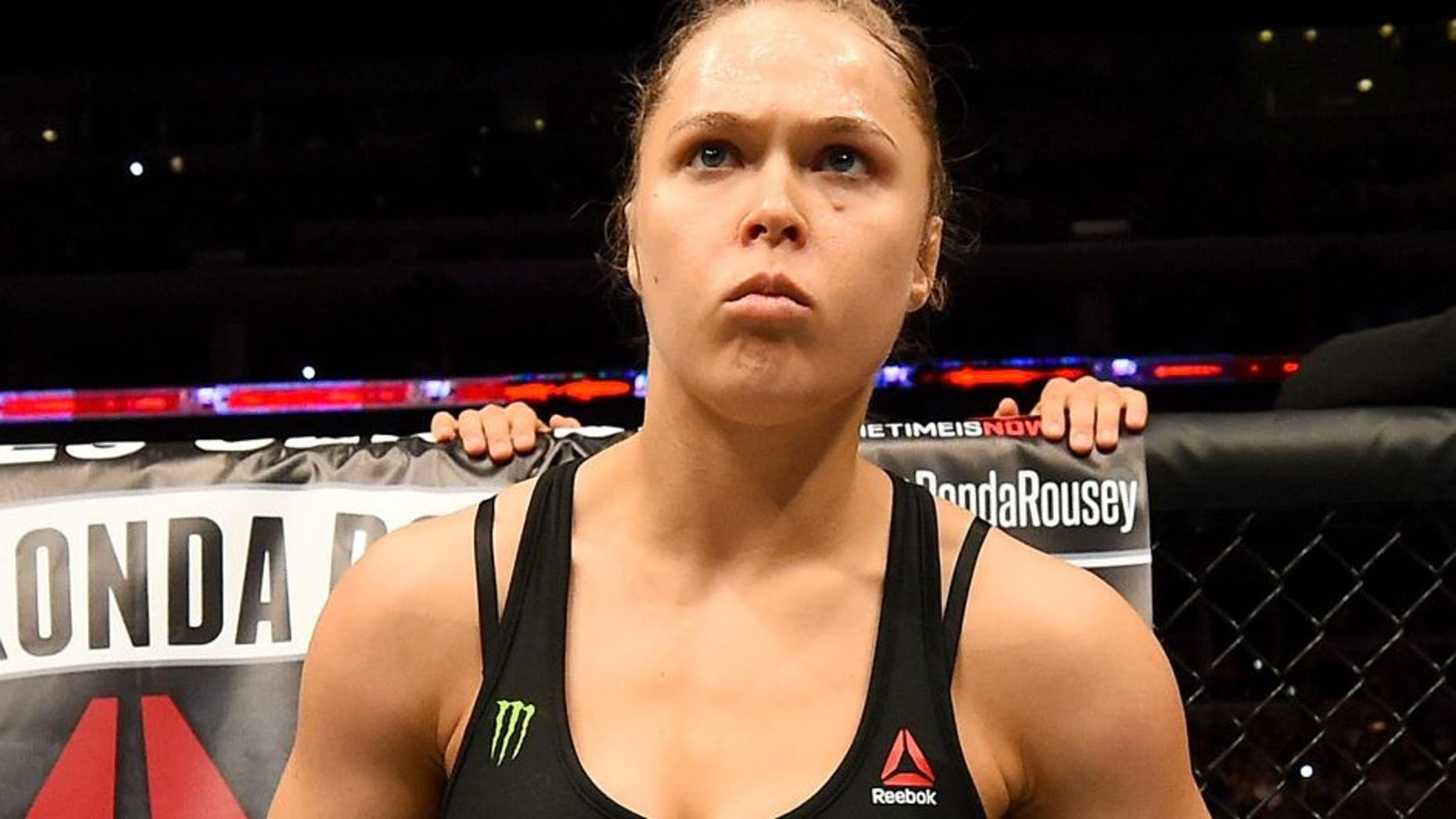 Ronda Rousey took center stage for the UFC 193 press conference in Australia, but her rowdiest response was unprompted after the subject of Nick Diaz's recent suspension was brought up during the question and answer period.
Diaz was suspended for five years on Monday by the Nevada State Athletic Commission after he allegedly tested positive for marijuana metabolites following his fight against Anderson Silva at UFC 183 in January.
It was the third such offense for Diaz during his career, but marijuana is typically viewed as such a low risk drug that penalties have never been as harsh as what likely equates to a lifetime ban from the sport.
Rousey, who is a close friend and training partner to Diaz, erupted while taking direct aim at the Nevada Commission for punishing the former welterweight title contender in such extreme measures.
Rousey also took issue with the fact that marijuana is even considered a performance enhancing drug at all much less being tested for by the commissions.
"I'm sorry no one asked me anything, but I have to say something. It's so not right for him to be suspended five years for marijuana," Rousey said. "I'm against them even testing for weed at all. It's not a performance enhancing drug, it has nothing to do with athletic competition, it's only tested for political reasons. They say 'oh it's only for your safety to keep you from hurting yourself because you're out there'. Well then why don't they test for all the other things that could possibly hurt us that we could be under the influence of while we're out there?
"There's no reason for them to be testing for weed. In athletics, the beautiful thing about it is it separates everything from politics, it shouldn't be involved at all and Nick is a really close and dear friend of mine so of course I'm going to defend him."
Rousey also blasted the commission for recently giving former UFC middleweight champion Anderson Silva a one-year suspension following a positive drug test for steroids before and after his fight with Diaz.
Rousey was befuddled as to the reasoning behind Silva getting such a light sentence when compared to Diaz, who basically had his career taken away from him because he allegedly smoked weed at some point before his fight.
"It's so unfair if one person tests for steroids that could actually really hurt a person and the other person smokes a plant that makes them happy and he gets suspended for five years whereas the guy that could have hurt someone so much that he could have died in there gets a slap on the wrist," Rousey said. "It's not fair. It's not fair at all."
Rousey wasn't finished yet because she also took a moment to defend UFC president Dana White, who didn't have much to say about Diaz's suspension other than to say a five year ban 'seems a little rough'.
Rousey made it clear that White and the UFC don't control the suspensions handed down by the commissions, but everybody involved with the sport should be making a lot of noise right now after such a gross injustice was handed down to Diaz on Monday.
"You know what? It doesn't make me a bad person for saying it. I can't believe it's not being said more," Rousey said. "Yeah, I really think they should free Nick Diaz, but you know what it's not Dana's decision either. You can't get mad at him, he had nothing to do with it. I'm sure if he had the choice, and I'm going to speak for him, he would have given him a lot less."
Rousey finished her tirade by once again slamming the entire idea that marijuana is still listed as a banned substance at all.
The World Anti-Doping Agency has raised the threshold for a positive marijuana test from 15 nanograms per milliliter to 150 nanograms per milliliter as recently as 2013, but still left the drug on the list for banned substances despite many athletes having medical prescriptions to use it not to mention it's completely legal in several states in the United States.
"I don't think marijuana should be part of the conversation at all," Rousey said. "I think it's an invasion of privacy that they test for it and they have no right."