Ronda Rousey apologizes for sending out Photoshopped photo of herself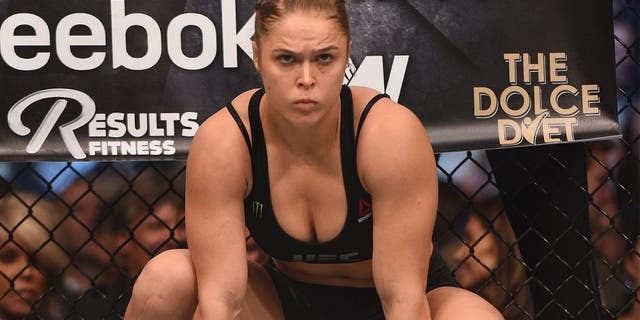 Ronda Rousey has been one of the biggest advocates speaking out against body shaming but she had to apologize on Thursday after accidentally sending out an altered image from her appearance on "The Tonight Show" with Jimmy Fallon.
Rousey was a guest on the show this past Tuesday and she released a photo from the set on Thursday giving credit to the folks who helped her with her hair, clothes and make-up.
Unbeknownst to Rousey at the time, however, the person who sent her the photo had "shaped" her arms to make them look a little smaller and while she knows that it was done with good intentions, she says she never wants to be ashamed of any part of her body no matter how big or how small.
"I have to make an apology to everyone - I was sent a picture to share on social for Fallon that was altered without me knowing to make my arms look smaller," Rousey wrote on Instagram. "I won't say by who - I know it was done with severely misplaced positive intentions - but this goes against everything I believe and I am extremely proud of every inch of my body.
"And I can assure you all it will never happen again. I could not be more appalled and hope you all forgive me."
Rousey has battled throughout her entire career against the idea of body shaming after she dealt with a ton of bullying and self image issues while she was growing up as a teenager while rising up the ranks in the sport of judo.
She eventually came to love her body and Rousey eventually spoke out against the idea that a woman can only be shaped one particular way and still be beautiful. Ahead of her fight against Bethe Correia last August, Rousey dropped one of her most famous speeches while talking about her body and how proud she was of every muscle and curve she worked to attain.
"That's why I think it's hilarious if people say that my body looks masculine, or something like that. I'm just like, 'Listen, just because my body was developed for a purpose other than f--king millionaires doesn't mean it's masculine," Rousey said.
"I think it's femininely bad-ass as f--k because there's not a single muscle on my body that isn't for a purpose. Because, I'm not a do-nothing b--ch. It's not very eloquently said, but it's to the point. And, maybe that's just what I am. I'm not that eloquent, but I'm to the point."
Her speech was so well received, Beyonce even played it ahead of one of her concerts last year.
It's no wonder the altered image got Rousey so rowdy as she apologized to the world while promising that it will never happen again.