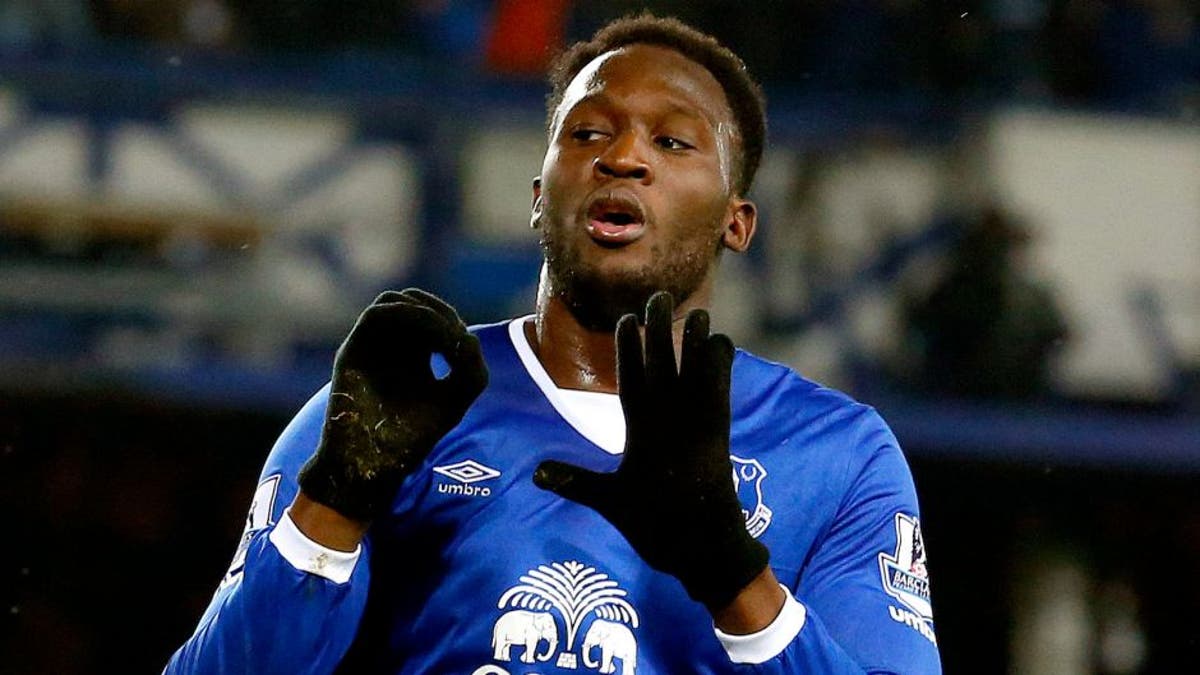 Romelu Lukaku is going to Manchester United. Or Bayern Munich. His dad said so.
Only Lukaku's dad only said so because those are his favorite clubs. It's not indicative of anything really.
But Lukaku really does want to leave Everton for one very good reason and he made his desire very clear.
"I'm 23 next summer and I think it would be nice to play in the Champions League from next season," the striker said.
For those of you who don't want to pull up the table, Everton are in 12th place and 13 points from the top four. They aren't going to play in the Champions League next season so if he wants to be in the competition, he needs to leave Goodison Park.
Now that Lukaku has made his preference clear, it's time to fire up the transfer rumor machine*. This is going to be a special one, too. There may not be a more desired player on the move this summer and all eyes will be on everything he says and does. He will be an easy way for papers to sell copies and sites to get clicks. This one is going to be a disaster, and disasters make for the best transfer sagas.
* Actual quotes from a player are not needed to start the machine. In fact, this is rare. We are not clear if these clear facts and verified information will break the machine.
Let's go through all the factors of Lukaku's transfer now that his dad has kicked things off:
Lukaku's wishes
This one is pretty clear now. He wants out of Everton.
Everton
The Toffees make this especially fun. Often clubs with someone like Lukaku would set a high, but not absurd price for any bidders to meet. If a club meets that valuation, they sell.
Everton are not that easy.
Look back at what happened with John Stones last summer. Chelsea wanted him and Everton had a price. But with each of Chelsea's bids, Everton kept raising the price and, in the end, they kept Stones. That's what the Toffees wanted the whole time and that's what they got.
Lukaku is better and way more valuable than Stones. If Everton wanted £40 million for Stones, they should demand at least £60 million for Lukaku and probably way more than that. Unless they're willing to concede defeat and know Lukaku will do everything in his power to force a move through, then it becomes a hot mess.
Euros
Every major international tournament, a handful of players play great and clubs rush to drastically overpay for their services. Belgium go into this summer's Euros as legitimate contenders and Lukaku could very well put on a show. If he does, his already high price could go up even further, and Everton's demands will get spectacularly high.
Price
It's impossible to tell just what price tag Everton will throw on Lukaku, but you can bet it will be high. Anything under £50 million would be shocking, but it could go as high as £75 million or more. There are only a handful of clubs who can afford him, especially when you consider the gigantic wages he will want too.
Seriously?
Lukaku is a 22-year-old who, in the last four seasons, has 78 goals and 28 assists while playing for Premier League clubs. He's big, strong, fast, a good finisher and his ability to find space in the box is sublime.
If you're going to spend oodles of money on a striker, he's the one you spend it on.
Interested clubs
The entire list of clubs who can afford Lukaku are as follows: Real Madrid, Barcelona, Bayern Munich, Juventus, Manchester City, Manchester United, Arsenal and Chelsea.
Barcelona doesn't need Lukaku and Bayern Munich don't really either. Arsenal are unlikely to stump up the money to land him and Chelsea would have to admit they made a collossal mistake in letting him go to begin with. Clubs are rarely capable of putting their egos aside and doing so.
That leaves us with Real Madrid, Juventus, Man City and Man United. Trying to guess what Florentino Perez will do is foolish so even though they don't need Lukaku and should focus their attention elsewhere, they may still go for him. Juventus would have to test their financial limits, but he'd be a terrific fit. Man City makes a lot of sense considering their money and their need to overhaul the squad, but Pep Guardiola might fancy a less traditional striker because he's a (brilliant) crazy person.
So how about Man United? They have a rather large problem in that they may not be in the Champions League next season (the same is true for City, as the Manchester rivals are fighting for one spot in the top four), and an even bigger one in it looking like Jose Mourinho will be their next manager. Mourinho and Lukaku did not get along well at Chelsea. But the Red Devils can pay. They can pay a lot. And at some point, the size of the check matters.
How will it all play out?
This entire thing started with Lukaku's dad picking two of his favorite clubs and going public with it. Do you really think anyone knows what's going to happen except hilarity?