Roger Penske's only disappointment: Never getting Tony Stewart in an Indy ride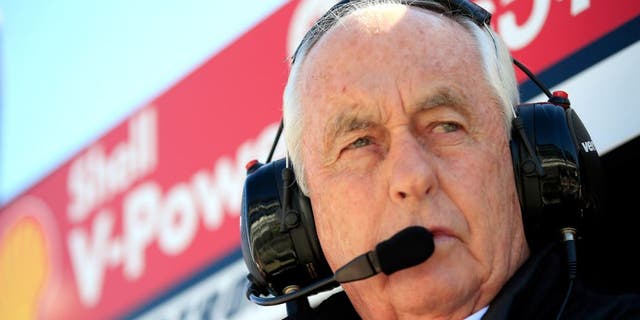 Roger Penske has been involved in auto racing for nearly 60 years, and he recently admitted that his only true disappointment was his inability to talk Tony Stewart into driving for him in an Indianapolis 500.
Stewart, 45, is retiring as a full-time NASCAR Sprint Cup Series driver at the end of this season, which is about to enter its final weekend at Homestead-Miami Speedway. Stewart won three NASCAR Premier Series championships, but he came up through the ranks as an open-wheel driver and competed in a total of five Indy 500s in his career.
"The only disappointment I have is that he never took me up on a ride at Indy. ... He is a true racer, true grit, and he tells it as it is," Penske said recently.
Penske is in Florida this weekend to root on Joey Logano, who will drive the No. 22 Team Penske Ford as one of the Championship 4 drivers competing for the NASCAR Sprint Cup Series title in this Sunday's season finale at the Homestead track. If Logano can pull it off to win his first championship, it would give Team Penske an unprecedented double -- the IndyCar Series title and the Sprint Cup title in the same year.
Simon Pagenaud won this year's IndyCar championship earlier, giving Team Penske its 14th such title and second in three years. The company has only one NASCAR Premier Series championship, with that coming in 2012 when Brad Keselowski drove the No. 2 Dodge to the title.
"That would be a record, which would be amazing for the team," Penske said of the possible double-championship. "When we start and you get into the season and you have success in one series and you see you're competitive in another, believe me, it crosses my mind. But at the end of the day, it's a lot tougher to make it happen, to really execute that."
Getting to this point -- being in the hunt in the final race -- is the hardest part of the battle, Penske pointed out.
"To be there (this weekend), remember, we're racing against three cars," he said. "I think we have as good a chance as anybody unloading there at Homestead."
As for getting Stewart in one of his cars for an Indy 500 someday, Penske didn't sound too optimistic. But he did also leave the door cracked ever so slightly open, should Stewart ever consider giving it a one-off try.
"I've got so many drivers I'm looking forward to getting enough cars for them," Penske said. "I think we've got a full house right now, five of them this year. I said I'd never run more than two. But I guess you never know."
Stewart's highest finish in the Indy 500 came in his fifth and (so far) final try, when he drove for Chip Ganassi and finished sixth while pulling off a rare double of another kind. Later that same day, he raced in the Coca-Cola 600 NASCAR Premier Series race at Charlotte Motor Speedway and finished third.