Roger Goodell says NFL will still dock Patriots' 2016 first-round pick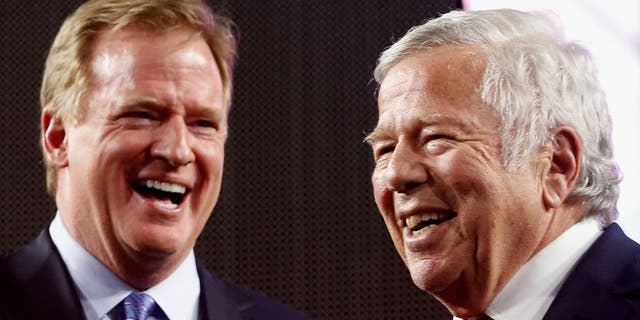 Neverending. Deeply petty. Only getting worse.
Deflategate is an endless mire of bad and dumb skirmishes over bad and dumb things, and the league wants to assure you: they're not over it. At all.
Roger Goodell made this much clear after an NFL owners' meeting on Wednesday morning, saying the NFL will not return the first-round draft pick it initially docked the Patriots for using under-inflated balls at the 2015 AFC Championship game.
Goodell's response came after Patriots owner Robert Kraft sent him a letter lobbying for the pick's return, per USA Today's Lindsay Jones:
"I did receive the letter from Robert a few weeks back," Goodell said. "I responded to him. I didn't think there was any new information in there. There will be no changes in discipline."
So no: Not happening, sirs.
Brady and New England might've gotten everything else, but Goodell is keeping the cat, Robert. He's taking the pick and the cat and these dish towels, too. Because this is an ugly, extended breakup, and the league will be damned if it doesn't at least grab one thing before slamming the door and storming off to sulk.
As for that "new information" Goodell deemed not to exist, it probably included that whole thing where a judge looking at the Deflategate facts condemned the commissioner's dispensation of unchecked "industrial justice."
I'd ignore that, too (if I were in the grips of an extended fever dream of bitterness).
Dan is on Twitter. He's still bitter about Wallace's death.