Roger Clemens fires his own PED allegation back at Roy Halladay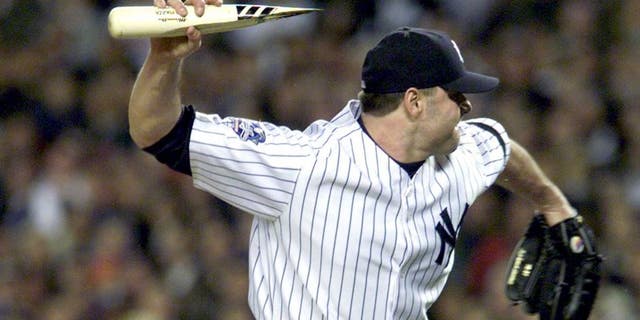 NEWYou can now listen to Fox News articles!
Before the MLB Hall of Fame announcement came down on Wednesday -- when only Ken Griffey Jr. and Mike Piazza were inducted -- former big league pitcher Roy Halladay shared his thoughts on social media about steroid users and said Roger Clemens and Barry Bonds should not be inducted in Cooperstown.
Halladay wrote in a tweet: "When you use PEDs you admit your not good enough to compete fairly! Our nations past time should have higher standards! No Clemens no Bonds!"
After the announcement, Clemens fired back with a blunt statement and lobbed his own PED allegation back at Halladay.
Here's what Clemens, who got 45.2 percent in this year's HOF voting, had to say about Halladay's "asinine" tweet, per Mark Berman of FOX 26/KRIV:
We should mention here that Clemens has never tested positive for performance-enhancing drugs and was acquitted by a federal jury of charges that he lied to Congress about his alleged steroid use (that won't clear him in the eyes of many fans, of course). Meanwhile, Halladay has never been publicly connected to PEDs like Clemens has, fairly or unfairly, so this accusation by Clemens should be considered with that context.
Update: Halladay responded to Clemens' statement with this tweet Thursday morning:
Teddy Mitrosilis works in social content development at FOX Sports Digital. Follow him on Twitter @TMitrosilis and email him at tmitrosilis@gmail.com.