Roethlisberger: In awe when Brown drops a pass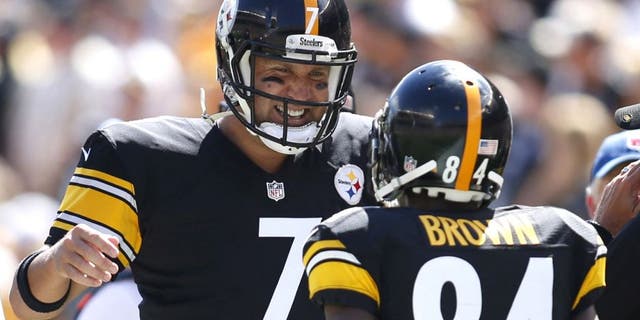 There's not much left that Antonio Brown can do to impress Ben Roethlisberger. Charles LeClaire Charles LeClaire-USA TODAY Sports
Steelers quarterback Ben Roethlisberger has grown accustomed to all of the amazing things receiver Antonio Brown does on the field -- whether it's amassing nearly 300 receiving yards or landing a front flip into the end zone.
Last Sunday's somersault landing was quite impressive, but few things about Brown wow Roethlisberger these days. In fact, Roethlisberger is more amazed when Brown doesn't make catches.
"It seems silly because we expect what he does every week," Roethlisberger said per Steelers.com. I think the most amazing thing was that front flip that he did. Doesn't mean we like it, but it was pretty amazing. It's hard for him to do anything anymore that we shake our heads at.
"The biggest thing for me that has me in awe is when he drops a ball. That's a bigger deal than him making a great catch."
Roethlisberger may have a point. Brown only has two drops all season to go with his 79 catches and 1,141 yards. He may have to break out a cartwheel or backflip if he really wants to impress his quarterback.