Rodgers makes PFF's Team of the Week after questionable Week 3 grade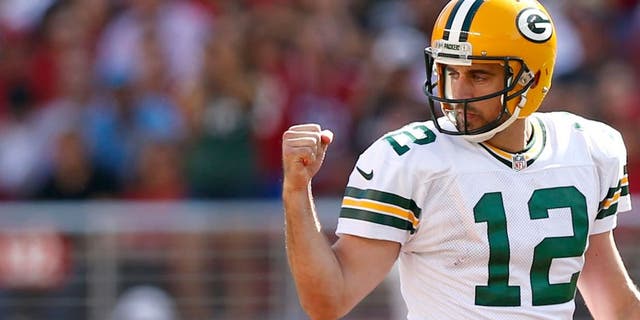 NEWYou can now listen to Fox News articles!
The analysts at Pro Football Focus (PFF) have placed Aaron Rodgers back on a pedestal after last week's negative game grade caused quite an uproar.
The outlet, which grades players based on game performance, gave Rodgers a plus-4.9 grade for his 224-yard, one-touchdown performance in a 17-3 win over the San Francisco 49ers on Sunday. He made PFF's Team of the Week after throwing just five off-target balls.
This high recognition comes one week after absolute outrage, as PFF gave Rodgers a minus-0.8 grade for his performance in a 38-28 win over the Kansas City Chiefs. In that game, the All-Pro quarterback threw for 333 yards and five touchdowns -- both high-water marks for the 2015 season.
Although Rodgers' stat line against the Chiefs implies excellence, PFF found his performance to be rather average. And although his numbers against the 49ers would lead one to believe he properly managed a low-scoring affair, the outlet thought his play was exceptional.
There's no telling what type of grade PFF will give Rodgers against the St. Louis Rams next week, but everyone is sure to be watching.
MORE NEWS: Want stories delivered to you? Sign up for our NFL newsletters.