Rod Carew's new heart, kidney came from ex-Baltimore Raven Konrad Reuland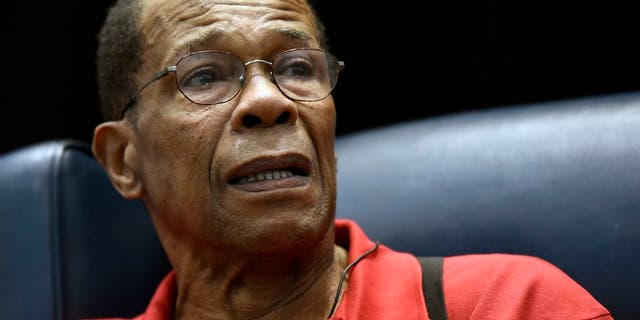 NEWYou can now listen to Fox News articles!
Baseball Hall of Famer Rod Carew received a heart and kidney from an organ donor in December 2016. Carew knew the donor was a 29-year-old, a coincidence considering that was the number he wore during his playing career.
Now, per Baltimoreravens.com, comes the news that the donor was former NFL player Konrad Reuland, who died last December after suffering an aneurysm.
Carew, aseven-time American League batting champion and first-ballot Hall of Famer, was on a transplant list in November 2016. His condition worsened, and he moved to the top of the list on Dec. 9, 2016.
AP
Unbeknownst to Carew, Konrad Reuland, a little boy he had met nearly 20 years earlier, died three days later.
Two days after that, Carew received the call he had been waiting for he would be getting a new heart and kidney. He underwent a 13-hour procedure to receive the transplants.
The surgery was a success, and the Carews were eternally grateful to the man whose heart and kidney Rod had received. Rods wife, Rhonda, had friends who had seen the news of Reulands death and asked her if that was the heart he received, but they had no way of knowing.
At Reuland's funeral in Southern California, people asked his mom whethershe thought Konrad's organs had been donated to Carew.
After the funeral, Mary started her own research. She read news articles online and noted that the circumstances had to be more than a coincidence.
Carew, 71, had received heart and kidney transplants from an exceptionally healthy 29-year-old man. The Reulands had been told that his left kidney and his heart went to a 71-year-old man in Southern California. Carew was a patient at Cedars-Sinai Hospital, less than five miles away from where Reuland died.
Everybody was connecting the dots, Mary said.
Mary Reuland called the donation company, and it confirmed that Carew was the recipient of her son's organs.
Mary also decided to reach out to the Carew family. She connected with Rhonda, and they bonded almost immediately. They talked over the phone on several occasions and realized they have been closer than they ever knew. Their children went to the same grade school and the Carews remembered Konrad and his brothers from all of their success on the football field and basketball court.
They decided they wanted to meet in person. Mary and Ralf wanted another opportunity to listen to their sons heartbeat. Rod was released from the hospital on Feb. 14, and the Reulands invited Rod and his family to their home on March 2.
We lost a wonderful man, so it had to go into a wonderful person, Mary told Rod. I couldnt be happier that it went to such a wonderful man.