Rockies to take caution with Chad Bettis as he returns from elbow injury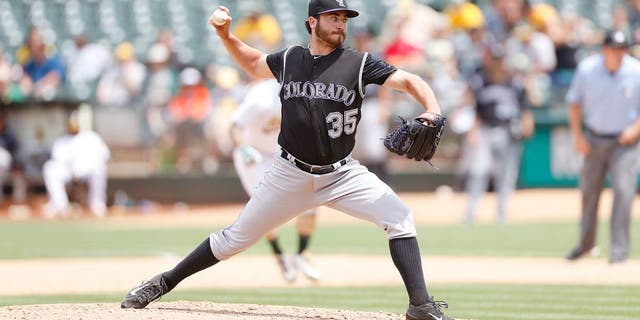 For the first time in six weeks, Chad Bettis will take the mound for the Colorado Rockies on Tuesday, a start that will be highly monitored by the Rockies in light of the right-hander's recent injury.
Bettis, who has alternated roles between a starter and reliever with the Rockies, made 13 starts this season before being placed on the disabled list with inflammation in his throwing elbow.
While the 26-year-old has managed to avoid becoming another pitcher to undergo Tommy John surgery, the Rockies plan to heed caution as he takes a major-league mound for the first time since July 18.
"He's throwing the ball real well for us," Rockies manager Walt Weiss told the Denver Post. "His rehab outings, he threw the ball well. We feel like he's 100 percent and healthy, so he should just continue to do what he's been doing for us."
While Bettis threw 8 1/3 scoreless innings over two rehab starts, he threw less than 70 pitches in both outings.
Weiss says he doesn't have a particular pitch limit in mind for Bettis, but he plans to be more attentive to the right-hander's physical wear than he normally would.
"We will take into consideration that he hasn't pitched in a major-league game in a while, so we'll probably be a little more careful with him than we typically would, but there's no hard pitch count," Weiss said.
(h/t Denver Post)