Rockies' Arenado homers in 6th straight game, but Giants snap skid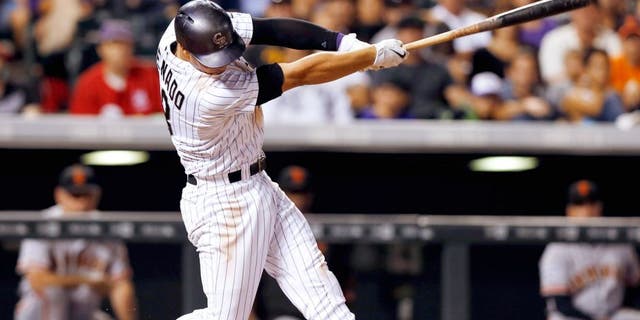 DENVER -- The San Francisco Giants stopped their losing streak, but they keep losing players.
Jake Peavy doubled twice and pitched into the sixth inning, and the banged-up Giants beat the Colorado Rockies 7-3 on Saturday night to end a seven-game losing streak.
Nolan Arenado homered for the sixth straight game to set a Rockies franchise record. It matched the longest streak in the majors since Chris Davis did it with Baltimore in 2012.
''I didn't realize Nolan had hit a home run in six straight games,'' manager Walt Weiss said. ''I knew he'd been hitting a lot of them lately. Just another accomplishment for Nolan in a very young career.''
Angel Pagan and Gregor Blanco homered for the Giants, who had 15 hits but lost another catcher when Hector Sanchez suffered a sprained left ankle in the fourth inning.
It was another setback for San Francisco, which used a makeshift lineup due to injuries. First baseman Brandon Belt (stomach illness) was out, outfielder Nori Aoki didn't play because of concussion symptoms and backup catcher Andrew Susac returned to San Francisco to have his sprained left wrist examined.
''I just can't believe we lost the catcher tonight,'' manager Bruce Bochy said.
The Giants are also without second baseman Joe Panik (back), outfielder Hunter Pence (oblique strain) and pitchers Tim Lincecum (hip surgery) and Matt Cain (flexor tendon strain).
Nick Noonan, who joined the team Tuesday, played first and delivered an RBI double in the second for the Giants' first lead in 44 innings.
It was his first hit in nearly a year, and it was the first time he played first base in 14 years.
''Maybe Little League,'' he said when asked the last time he was put there. ''I had a sprained thumb and I think I played first. I was 12.''
Buster Posey was given the night off but was pressed into service when Sanchez turned his ankle trying to beat out a sacrifice bunt.
''Buster got three innings off,'' Bochy said.
With his team hurting, Peavy (5-6) delivered on the mound and at the plate. He doubled and scored in a two-run fifth and then had an RBI double in the sixth to give the Giants a 5-1 lead. It was the 12th multi-hit game of his career and the first time he has doubled twice.
''I got some pitches I was able to hit,'' Peavy said. ''Got in some good hitters counts. I was able to see the ball better than I normally see it. I've had good nights and bad nights at the plate and tonight was one of those good nights.''
Chad Bettis (6-5) gave up four runs and eight hits in 4 1/3 innings.
Peavy was cruising until the sixth when the Rockies closed the gap. Jose Reyes, who had two hits and an RBI, singled and took second on an error by Blanco. Peavy struck out Carlos Gonzalez but Arenado's 36th home run made it 5-3.
''Ball got too much plate. Wrong pitch, I guess,'' Peavy said. ''That being said, it's a big-league win. We needed a win in the worst way. Big win, obviously.''
Arenado tied Gonzalez for the NL lead with the homer. Nine of his home runs have come against the Giants.
Peavy allowed three runs and four hits and struck out five in 5 2/3 innings.
''He inspired everybody how he was pitching and how he was swinging the bat,'' Bochy said. ''It looked like he was determined to stop this streak.''
The Giants got the runs back in the seventh on Blanco's homer and a bases-loaded walk by reliever Scott Oberg.
Pagan hit his first home run of the year in the third. Bettis singled and scored on Reyes' triple in the bottom of the inning to make it 2-1.
SHUT DOWN
Gonzalez was 0 for 3 after homering five times in the previous three games. He had 12 RBIs in that span to reach 85, his highest total since 2012.
TRAINER'S ROOM
Giants: Bochy said Susac will have his right wrist immobilized and will most likely be placed on the 60-day disabled list. San Francisco is recalling C Jackson Williams from Double-A Richmond. He is expected to join the team in time for Sunday's game.
Rockies: OF Corey Dickerson (rib fracture) played seven innings in a rehab assignment with Triple-A Albuquerque. He could rejoin the team in San Diego on Monday.
UP NEXT
Giants: LHP Madison Bumgarner (16-7, 2.96) is 10-6 with a 3.09 ERA in 21 career games against the Rockies.
Rockies: RHP Yohan Flande (3-1, 4.04) has won his past three decisions. He didn't record a win in his first 24 major league appearances before notching his first June 28