Rockies 6, D-backs 3: Castillo, Weeks homer in defeat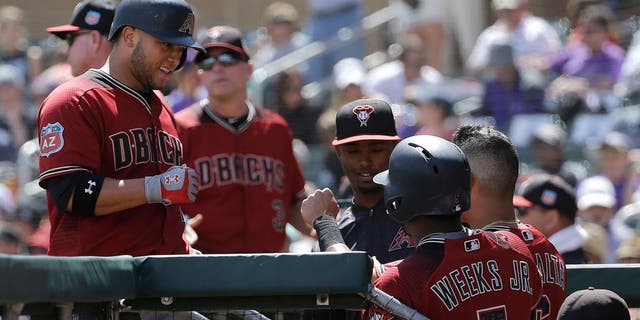 SCOTTSDALE, Ariz. -- Mark Reynolds and Charlie Blackmon homered, Nolan Arenado collected his major league-high 31st hit of spring training and the Colorado Rockies beat the Arizona Diamondbacks 6-3 on Thursday.
Welington Castillo and Rickie Weeks hit solo home runs in the fourth off Rockies prospect Kyle Freeland. Paul Goldschmidt went 2 for 3.
Arenado's RBI double off prospect Braden Shipley in the first inning was his 16th extra-base hit in 20 games. Arenado also was hit by a pitch and flied out, leaving him at 31 for 55 (.564).
Reynolds, the former Diamondbacks third baseman, hit a 422-foot solo shot to left and Blackmon added a two-run homer in a three-run second off Shipley. Blackmon later doubled in a preview of the teams' season-opening series starting Monday.
STARTING TIME
Diamondbacks: Shipley, a 2013 first-round pick, allowed five runs and eight hits in five innings in his first spring start.
Rockies: Freeland, the eighth pick in the 2014 draft, gave up three runs and eight hits in 5 2/3 innings while throwing 91 pitches. He was helped by Arenado starting a nifty double play at third and left fielder Gerardo Parra throwing out a runner at the plate.
MINOR LEAGUE DAY
Rockies right-hander Chad Bettis and Diamondbacks left-hander Patrick Corbin pitched in minor league games so they wouldn't face their first regular-season opponent. Bettis starts Tuesday and Corbin is scheduled to pitch Wednesday.
TWO CATCHERS
The Diamondbacks optioned Tuffy Gosewisch to Triple-A after the game, meaning they will start the season with two catchers: Castillo and Chris Herrmann.
Arizona also released infielder Joaquin Arias, leaving 31 players in camp.
FITZ ON THE HILL
Arizona Cardinals wide receiver Larry Fitzgerald will throw out the ceremonial first pitch before Monday's opener.
"What pitch should I throw? Uncle Charlie or the Heater?" Fitzgerald tweeted during the game.
UP NEXT
Diamondbacks: RHP Rubby De La Rosa starts Friday night in the opener of a two-game series with Kansas City at Chase Field.
Rockies: RHP Christian Bergman starts Friday night against Seattle.