Robert Nkemdiche wants to continue to play offense, despite his head injury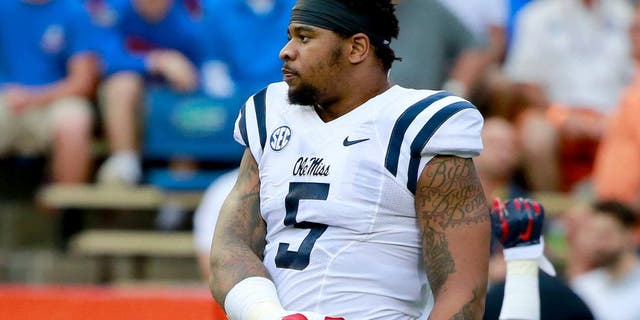 Will Nkemdiche continue to play offense for Ole Miss? Kim Klement USA TODAY Sports
One could make the argument that Ole Miss defensive star Robert Nkemdiche has no business playing offense. Why risk one of the most dominant defensive players in the nation by allowing a number of players to get their hits in on the 6-foot-4, 296-pound Nkemdiche.
Apparently the Rebels' star player does not see it that way.
"He came to see me (Monday) morning to make sure I wasn't thinking of keeping him from (playing offense)," Rebels head coach Hugh Freeze said. "That is just the competitor in him for sure."
Nkemdiche's attitude is certainly commendable, however if he wasn't playing offense in the first place, his status would not be in question leading into a season-defining game against Texas A&M.
Freeze gave the latest update on Nkemdiche's status during Wednesday's SEC teleconference.
"He's still in the concussion protocol, and that's really all I can say," Freeze said. "Ours begins on Monday and usually, if things go well, they wind up on knowing Thursday or Friday. That's what we hope and anticipate."
Considering Ole Miss still doesn't have an answer for a short yardage running back and Nkemdiche's willingness to continue to carry the ball, will the team use him this weekend if necessary?
"The package is in, and it's just a matter of whether we decide to use it or not," Freeze said. "We'll wait and see if he's cleared before we make that decision. It was definitely a freak deal and that can happen on any play, of course. The way his head hit the ground certainly caused that. We'll do what's best for him and the team."
MORE NEWS: Want stories delivered to you? Sign up for our College Football newsletters.