Robert Nkemdiche says he was drunk - not high - during hotel arrest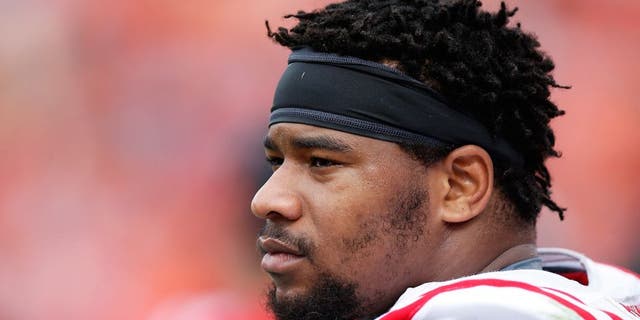 INDIANAPOLIS -- Robert Nkemdiche, the Ole Miss defensive lineman who was once the nation's No. 1 recruit, met with the media Friday and fielded a bunch of questions, mostly about issues with his character.
In mid-December, the 6-4, 295-pound Nkemdiche was slapped with a misdemeanor marijuana possession charge stemming from an incident that occurred in an Atlanta hotel. Nkemdiche reportedly broke through the window of his fourth-floor room and then fell off of a 15-foot-high ledge. According to The Atlanta Journal-Constitution, police found 12 marijuana cigarettes in the room, leading to the charges. Nkemdiche, a Georgia native, was suspended by Rebels coach Hugh Freeze for the Sugar Bowl.
Asked how he explained the incident to NFL teams at the Combine, Nkemdiche said: "I told the truth. It was a rash decision by me. It was embarrassing for me, for my family and for my Ole Miss family."
Nkemdiche denied that he was using drugs that night, saying that he was "drunk."
He was asked to clarify how that squared with the fact that he was charged with pot possession: "There were more people in the room, and nobody wanted to take the fall, and the hotel room was in my room."
As a few media members joked, Nkemdiche literally was the fall guy in this episode. Nkemdiche also said Laremy Tunsil was with him that night -- a detail the Rebels' standout offensive tackle probably isn't thrilled that Nkemdiche included.
In addition, Nkemdiche, who had seven tackles for losses and three sacks in 2015, conceded there were times that he has been lazy and didn't finish plays.
"But I am going to keep growing as a player," he added.