Rob Manfred is in a no-win position with MLB's domestic-violence penalties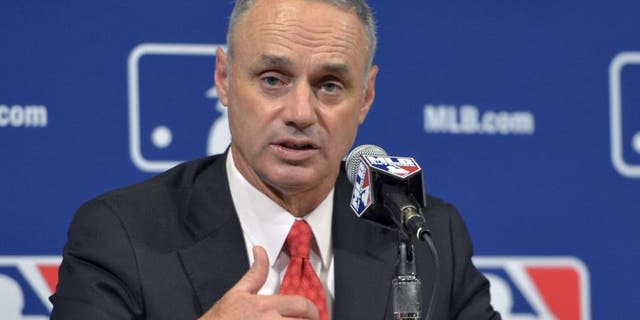 Here we go. Yankees closer Aroldis Chapman told reporters Thursday that he will appeal any suspension he receives under baseball's new domestic-violence policy, even though his union agreed to the policy, even though the length of his suspension has not yet been determined.
Chapman presumably will appeal because police did not charge him with a crime after he allegedly choked his girlfriend and fired eight gunshots in his garage. Well, the policy explicitly states that Commissioner Rob Manfred's "authority to discipline is not dependent on whether the player is convicted or pleads guilty to a crime." And again, this is a joint policy. While the union can appeal any penalty it deems excessive, it agreed to the terms.
Manfred, then, is in almost a no-win position as he weighs the first three cases that baseball is investigating under the new policy -- those involving Chapman, Dodgers outfielder Yasiel Puig and Rockies shortstop Jose Reyes. Of the three, Reyes likely will face the strongest discipline. He was the only one charged with a crime; his court date is April 4.
The Puig case appears the least serious. TMZ reported that Puig pushed his sister in a Miami bar in November after a "heated argument." Police told the Los Angeles Times that no such incident was alleged and that the only physical altercation took place between Puig and a bouncer.
Chapman participated in the Yankees' first workout Thursday. Puig is expected to report with the Dodgers' other position players. Reyes, however, is unlikely to be in spring training as he awaits baseball's decision, according to major-league sources. His court date occurs after Opening Day, but baseball likely will determine his fate -- and the fates of Chapman and Puig -- before then.
No matter what Manfred decides in each matter, some will view his penalties as too lenient and some will view them as too harsh. The policy gives him wide latitude, stating that there is no minimum or maximum penalty, that Manfred "can issue the discipline he believes is appropriate in light of the severity of the conduct."
The presumption of innocence is one of the governing principles of our criminal-justice system. Employers, however, can establish their own standards for employee behavior, and that is precisely what baseball is doing here.
In domestic-violence cases, victims often are unwilling to cooperate with police or investigators, making it difficult to prove criminal behavior. Victims often reconcile with their attackers as well, further complicating any prosecution. But even if a player is not charged -- or in Reyes' case, found not guilty -- that doesn't mean his behavior is acceptable from baseball's perspective.
In Chapman's case, the incident with his girlfriend was serious enough to warrant a dozen police officers coming to his home in Davie, Fla., at around 11 p.m. on Oct. 30. He acknowledged to police that he fired the gun in his garage afterward, and one of the shots went through an open window and into an open field, according to the police report.
He's getting suspended. He deserves to be suspended. But even under a new joint policy, that doesn't mean that any of this will be easily resolved.
As Chapman demonstrated with his comments on Thursday, he doesn't necessarily believe that he did anything wrong.