Rob Manfred given 5-year term as baseball commissioner as owners unanimously approve deal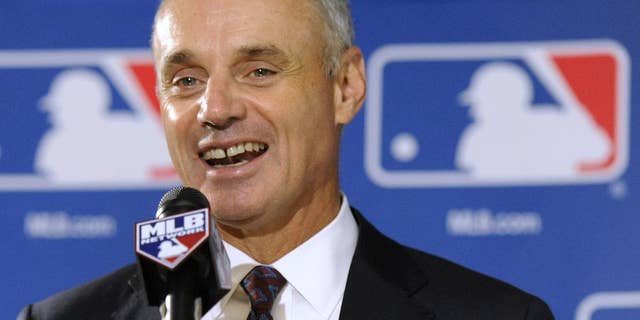 NEWYou can now listen to Fox News articles!
KANSAS CITY, Mo. – Rob Manfred has been given a five-year term as baseball commissioner when he succeeds Bud Selig in two months.
Baseball owners voted the term Thursday at their first meeting since electing Manfred over Boston Red Sox Chairman Tom Werner on Aug. 14. Manfred, who has worked for Major League Baseball since 1998, will take over from the 80-year-old Selig on Jan. 25.
Selig said Manfred's term was approved "unanimously, quietly and quickly," and the transition of power to baseball's longtime executive has been orderly.
"That's the way it's supposed to be," Selig said after two days of meetings.
Manfred said that improving pace of play will remain a priority. He also said replay will be similar to this past season, and changes will stem from technology and "how long it takes to get replay going."