Rob Gronkowski, Julian Edelman return to Patriots practice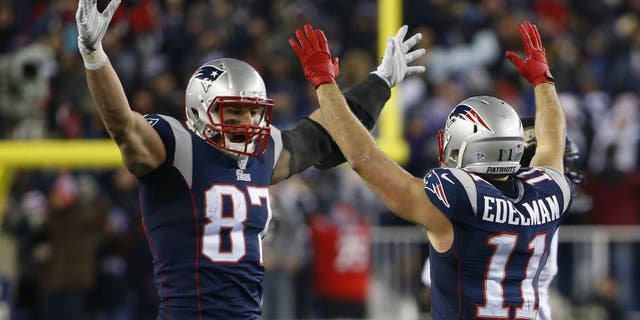 Key offensive weapons Rob Gronkowski and Julian Edelman were both back on the New England Patriots practice field Friday, and Gronkowski has a chance to play Sunday night at Houston.
The tight end, who has missed one game since hurting his right knee in a loss to Denver Nov. 29, had his second day of limited practice Friday and was listed as questionable when the team released its injury report.
"I'm doing everything I can to get better every single day and it feels good to be back just with my teammates," Gronkowski said during a 20-second encounter with reporters after practice. "Just mentally, it feels good to be back with them out on the practice field -- and any other questions you just have to talk to Coach (Bill) Belichick."
Earlier in the day, Belichick said when asked about how Gronkowski looks: "We'll list on the injury report whatever his situation is."
The Patriots have lost two games in a row for the first time since 2012. They haven't dropped three straight since 2002. Clearly, having Gronkowski back would help New England deal with JJ Watt, former Patriots defensive lineman Vince Wilfork and the rest of the Texans defense on Sunday night.
Edelman, who has missed the last three games after breaking his left foot, appeared for the first time at practice but is officially out for Sunday.
While Edelman visited briefly with reporters, a metal stool used by camera operators to get a better angle during interviews fell over.
"Oh, there goes my foot. Thanks, buddy," he said.
Talking about being back on the field for the first time, the slot receiver said: "It was good to be out there with my teammates . put the cleats on and run around."
Edelman leads the Patriots with 61 catches. Gronkowski is second with 57.
Edelman declined to say how much he was able to do.
Edelman says he's not necessarily surprised to be back so quickly after his Nov. 15 injury.
"I'd like to be back as soon as I can, but doing it safely and then smart and just trying to improve each day," he said.