Rob Gronkowski, David Ortiz show off their voices in new commercial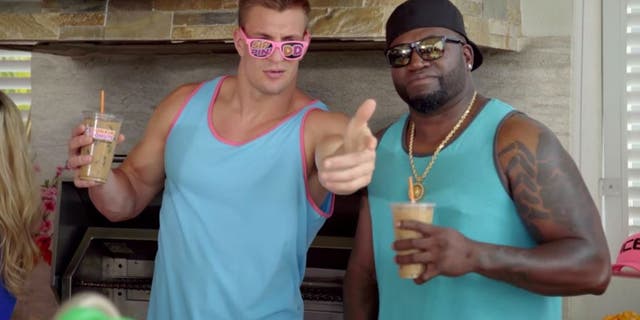 NEWYou can now listen to Fox News articles!
David Ortiz and Rob Gronkowski are ready to challenge Beyonce, Drake and Justin Timberlake for the song of the summer.
Maybe that's an exaggeration, but the pair of Boston athletes debuted a new music video for Dunkin Donuts Wednesday, and it's safe to say they are both better performers on the athletic field than they are as singers. The video features Gronkowski and Papi singing and dancing at a summer party at a pool house, although Gronkowski seems more into the party than Ortiz as the Patriots tight end cannonballed into a pool, danced with a selfie stick and participated in a limbo contest.
Both athletes had some solos in the song, but it's hard to judge who was the better singer of the two.
The end of the video pays tribute to Ortiz's upcoming retirement from baseball, as the commercial closes with Gronkowski and Big Papi walking off into the sunset as Ortiz says, "I'm gonna miss this man."